Slack was built to keep people connected, but also to keep people organised.

In this guide on Slack groups and channels, we share some of our favourite tips on how to use Slack to organise your organisation. These seven easy-yet-effective Slack hacks have helped us work smarter here at JOIN. It might do the same for your business, too!

Below we'll discuss: 
Organising large groups of people 
First thing's first – you'll want to start with the company wide channels. Great ones to start with that will probably be used throughout your entire company journey, would be:
#General 

#Product-Updates, and 

#Random
If you don't have only one office it would be nice to also have office specific channels, and if you're working in a hybrid or remote setting, you can include city channels, so those people can organise meet-ups or lunch meetings. 
Now, once you have your company wide channels, you can set up your team channels. Each team should have one, but keep them open instead of private. The reason for this is so that anyone can view the channel and take a look at what's currently being worked on within that team, without having to individually message the team members. 
Start small, dream big
– When to include people in channels
Let's imagine you're building your dream home. You'll need to start with your foundations. You'll need walls, and plumbing, and of course you'll also need a roof. But, you wouldn't invite all these contractors over to start work at the same time. 
That's the same as channels in Slack. 
First, you'll need to plan the project out. Then depending on your workflow you might need a designer or a project manager, and you'll probably also need developers and content writers, too. But not all these team members will need to receive project updates from the beginning. 
One technique you can use is to lay out a project timeline, and invite people in batches so that you can update people in groups, instead of having to present your project several times to people individually.

Let's say, for this project, I'll need one person from Product and one from Content to begin with, along with a project manager if it's a little more complex. 
Later I will need a Designer, but they're not essential when we're planning out the content for our landing page, so I'll include them later in our second batch. 
Lastly, I might need some Developers, and then any stakeholders that might be involved to assess and sign off on the project. I'll include those people later down the line when they'll most benefit from the channel. 
Once I think we're ready to go to the next phase of a project and include more people, I'll hold a kick-off meeting specifically aimed at those new roles, so they get relevant information and a specific look at how the project will go for them. They'll also be able to ask questions related to their expertise. 
If you instead invite everyone that will be involved across the project's lifespan from the start, you may find that people get complacent. They don't think the information is relevant to them yet, so they'll mute the channel. In my experience, I find people like to be included once they really need to be. 
Of course, this is just an opinion, and could be looked at in different ways. Maybe you feel like not including everyone from the beginning makes it more difficult for people to fully understand the small intricacies. That's a valid point too, it really depends on the structure of your teams and how your company works in general. 
Using prefixes
Some of your Slack channels will include everybody that works within your organisation. That means there could be hundreds of people in a channel. As more people join the company, more channels will materialise. 
A simple way to keep your Slack channels organised is to name everything in a systematic way. Here are some examples: 
You can name all the company wide channels to start with #company, followed by the topic (#company-updates, #company-data). 

Use the prefix #team, for anything related to the specific teams ( #team-content, #team-operations). 

You can also use a prefix for your project channels (#proj-web-design, #proj-referrals). 

For anything non-work related you could use the #fun prefix (#fun-sports, #fun-dinner). 
Setting up channels for fun
It should never be all work and no fun. You should allow teams to create channels based on their interests.
Aside from the #random channel, maybe there is a group of people that enjoy visiting the bars and restaurants around the area, or maybe there's a cinema group. 
Let your team be creative so they can foster stronger relationships together for a more productive and sympathetic team. Other ways to encourage this include team building and company culture. 
Setting up channels for data – Sharing the wealth
One of the best things about Slack is that it's quick. If you see a competitor doing something cool or disruptive, you can let the whole team know within moments. 
This level of knowledge sharing can be extremely beneficial for start-ups that are growing fast. 
With any growing start-up, there is a lot of data to share and Slack channels are a great place to share that. You can include this in your company wide channels, or you can just invite the people that really need to know. 
As well as this, sending company wide updates on revenue, sales, or milestones that you've achieved as a team are really great to send regularly. Getting some regular good news about the status of the company after teams have worked hard is important to keep morale up and increase motivation. 
The age of bots
Slack allows bots to send automated messages in channels. If you suspect, or notice, that a bot is sending too many updates it would be a good idea to give the bot its own channel so everything is condensed. 
Members of the channel can then put it on mute, or set up custom notifications for the updates. 
Development teams use bots a lot for deployment updates, you can also set up Slack with Asana or Trello and receive an automated message each time a new ticket is made, or a comment is added. 
Adding descriptions – Explain yourself
Starting with good channel names and using prefixes is great, but to make it perfectly organised and understandable you should add a description for each channel. 
Be specific about the channels' purpose and don't be afraid to enforce channel rules. 
To do this, simply set up a new channel, click on the name of the channel at the top, and add a description and topic.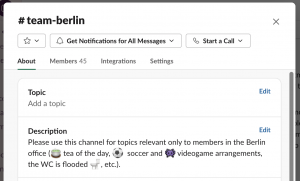 For your #company channels, you can have Slack automatically add new team members when they start. This is great for any growing company of course, and takes a task away from your people team. 
Add any rules that you have per channel in the description. Be clear about what sort of content is accepted in each channel and any specific rules you have, for example no '@here' tags in company wide channels. 
All of this advice on how to organise yourself properly on Slack is not only going to help keep you organised, but it will also save you some time too.