You probably spend a lot more time in your email inbox than you'd like to admit. The sad truth is that most of us do. The exact figure depends on your industry, but a McKinsey Global Institute study found that workers spend around 13 hours a week in their inboxes.
That's almost two full working days a week! But regardless of whether you use Gmail, Outlook, or another email service provider, chances are you can bring that number down. For starters, you can follow these email organization best practices.
But you can also further automate and optimise your inbox with some simple email hacks, tips and tricks that boost your productivity and efficiency at work. Changing your settings and using the right features can help you go from email newbie to inbox master in no time.
Below, you can find ten of the best email tips and tricks to optimise your inbox. Since we use Gmail here at JOIN these tips are mostly based on Gmail settings. However, most email service providers will offer similar features and functionalities to help you use your email inbox more efficiently.
Ready to speed things up?
1. Customise your email inbox layout and display density
A great place to start is the layout of your inbox. Although people often stick to the default layout settings this isn't necessarily the best view for everyone. Based on your own preferences you can change both the layout and the display density to suit your needs.
For example, did you know that many email service providers offer a split pane mode so you can see the contents of an email directly from inside your inbox? This can save you a lot of time spent opening emails, reading them, returning to your inbox, and repeating the process.
To use this in Gmail, simply click on the gear icon in the top right corner and change your inbox layout and display density according to your preferences. Be sure to also try out the different inbox types, such as always seeing unread emails at the top of your inbox. Or if you prioritise emails with stars you can sort your inbox to show those on top as well.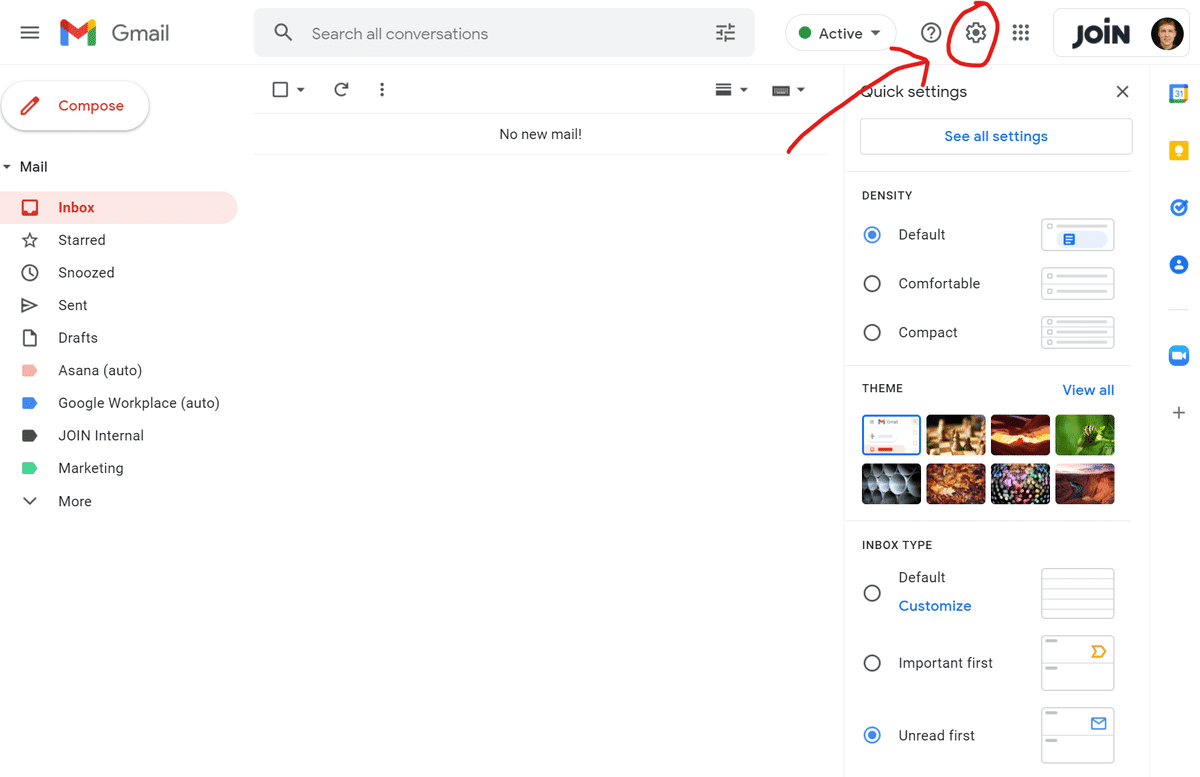 2. Save time with keyboard shortcuts
If you want to increase email productivity and efficiency you can't do this without keyboard shortcuts. Mastering these shortcuts can help you sift through your emails at lightning speed. And if you have vision or mobility disabilities, using shortcuts can be a lot easier than working with your mouse.
These keyboard shortcuts don't just let you copy, paste, and delete. You can use shortcuts to categorise your emails, add them to your task list, or report them as spam.
To learn more about Gmail shortcuts go to Settings > General and then scroll down to enable keyboard shortcuts. Once done, you can quickly summon the shortcuts overview with its own keyboard shortcut: ?.
Check out these Microsoft Support and Apple Support pages to learn more about Outlook and Apple Mail keyboard shortcuts.
3. Work smarter with Smart Reply and Smart Compose
Why type out everything yourself if Gmail can do it for you? Smart Reply and Smart Compose are two similar features that predict what you might want to write in an email based on your past emails and usage.
For example, you send the same email with your monthly invoice to the Accounts team. After a while, Gmail will realise you're practically typing the same message every month and it will give you in-message predictions that type the message for you.
The suggested text will appear in a slightly lighter shade than what you've already typed yourself. To add the suggestion simply press the tab key on your keyboard.
You can see if Smart Reply and Smart Compose are switched on by going to Settings > General.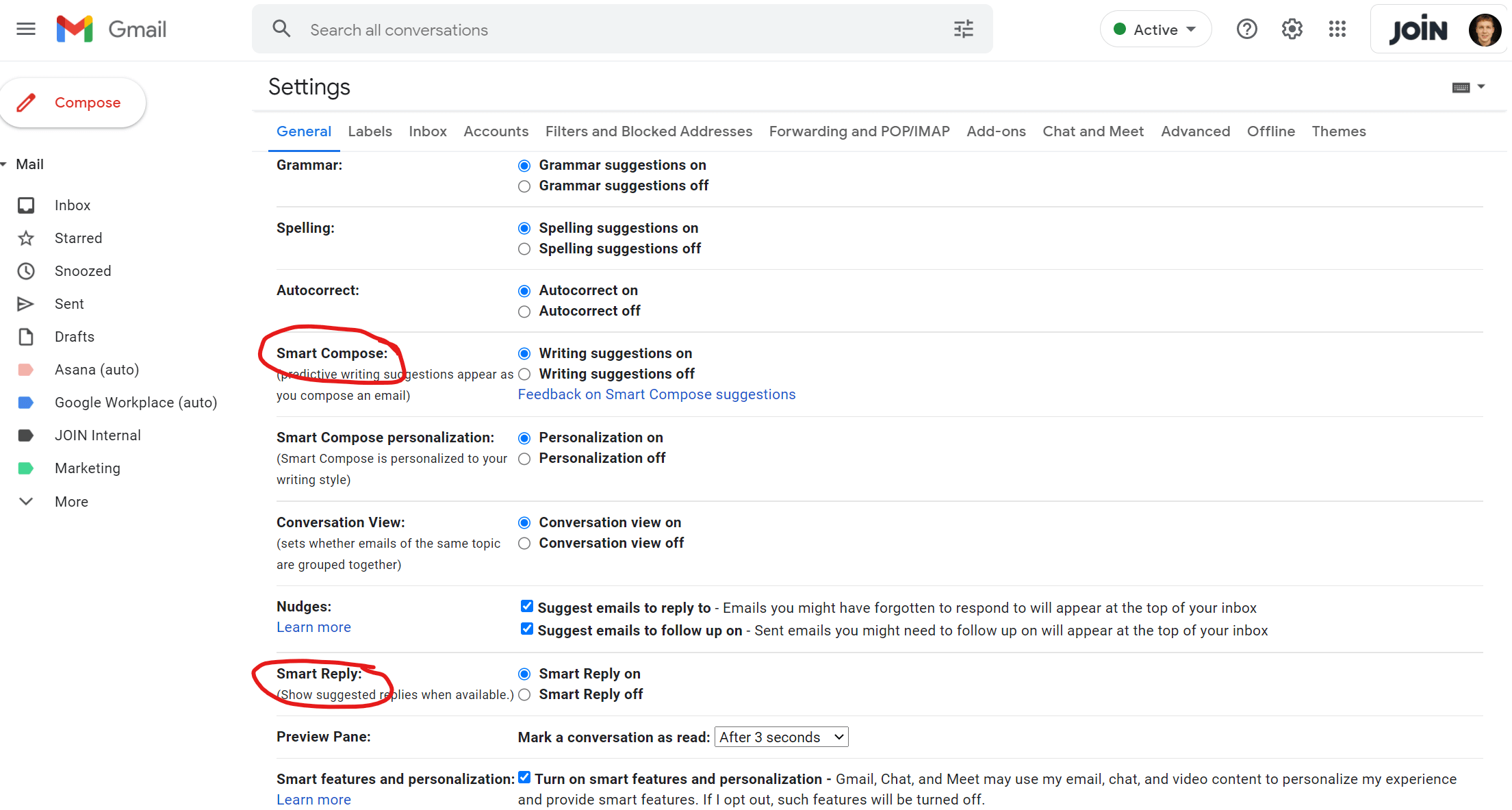 4. Set reminders with Nudges
Another smart feature that can help improve your email productivity and efficiency is the use of nudges.
When you forget to reply to an email and it gets buried away in your inbox your Gmail will automatically notice this and move the email back to the top of your inbox, showing a suggestion to respond to the email.
Similarly, Gmail will notice if you've sent an email but haven't received a response for a while. Gmail will send you a reminder to send a follow-up email.
You can switch on Nudges by going to Settings > General.
5. Snooze emails
Snoozing an email is basically the manual version of a Nudge. This email hack allows you to select an email and have Gmail remind you of it at a later time of your choosing.
To snooze an email, simply press the clock icon as you hover over an email in your inbox. It allows you to select a specific time and date when Gmail should remind you of the email. Until then, the email will disappear from your inbox (no worries, you can still find it in the "snooze" folder in the left sidebar).
6. Add labels to your messages
If you want to organise your email inbox you can't do it without labels. They help you create a bit more order in the chaos.
To add a label in Gmail, simply select an email in your inbox and then select the label icon in the row of buttons at the top of the inbox. Here you can create a new label or add an email to an existing label.
Alternatively, you can manage your labels via Settings > Labels or directly in the left sidebar of your inbox.
7. Create filters or rules for automated email efficiency
This is where you can really take control and automate your inbox. Email filters (Gmail) or rules (Outlook) are custom commands that you can apply to emails coming from certain senders. For example, you can have your inbox automatically place incoming emails in the correct folder.
Say you are subscribed to industry-specific newsletters to keep you up to date with the latest in your industry. You can set filters to automatically place all such emails in a folder called "Industry", bypassing your inbox as they come in.
This is probably the most-used type of filter, but there are many more actions you can perform with them. You can automatically star emails, forward them to another email address, or mark them as read. Instead of filtering by email sender, you can also filter by keyword, so for example put in a rule that all emails containing the word "recruitment" are added to a specific folder.
To create filters in Gmail, simply go to Settings > Filters > Create New Filter or use the search bar's dropdown menu. Alternatively, you can add a filter while inside an email by pressing the three dots and selecting Filter Messages Like This.
8. Write email templates (canned responses) to reply faster
Another great email hack is to write email templates (sometimes called canned responses). You can either insert these templates as you're composing a new email or replying to a thread, or you can use them to create automatic responses.
Using email templates can really help you boost your email productivity and efficiency. Just like with the Smart Reply and Smart Compose features they save you time when writing an email.
To create an email template in Gmail, simply start writing a new email first. Once you've written your text you click the three dots at the bottom, select templates, then select save draft as template. Whenever you want to change a template you start a new email, insert the template, rewrite it, and then overwrite the existing template.
You can further automate your emails by combining filters and templates to create automatic replies. Once you've saved a template, you will see an option to insert this template when creating a new filter.
Do bear in mind that you shouldn't try to create canned responses and automatic replies for everything. Unless used for frequent and repetitive incoming emails it might not be worth the time and effort to create a canned response.
And these generic replies can sometimes seem somewhat ungenuine to the sender, which isn't great if you're trying to stick to the standards of proper email etiquette.
A good example of when a canned response is useful is when you're a journalist who receives frequent article pitches for your publication. You could create an automatic response saying something like "I will get back to you within X days".
This way, writers sending you pitches don't expect an immediate response, and they won't send you an annoying follow-up email a day later!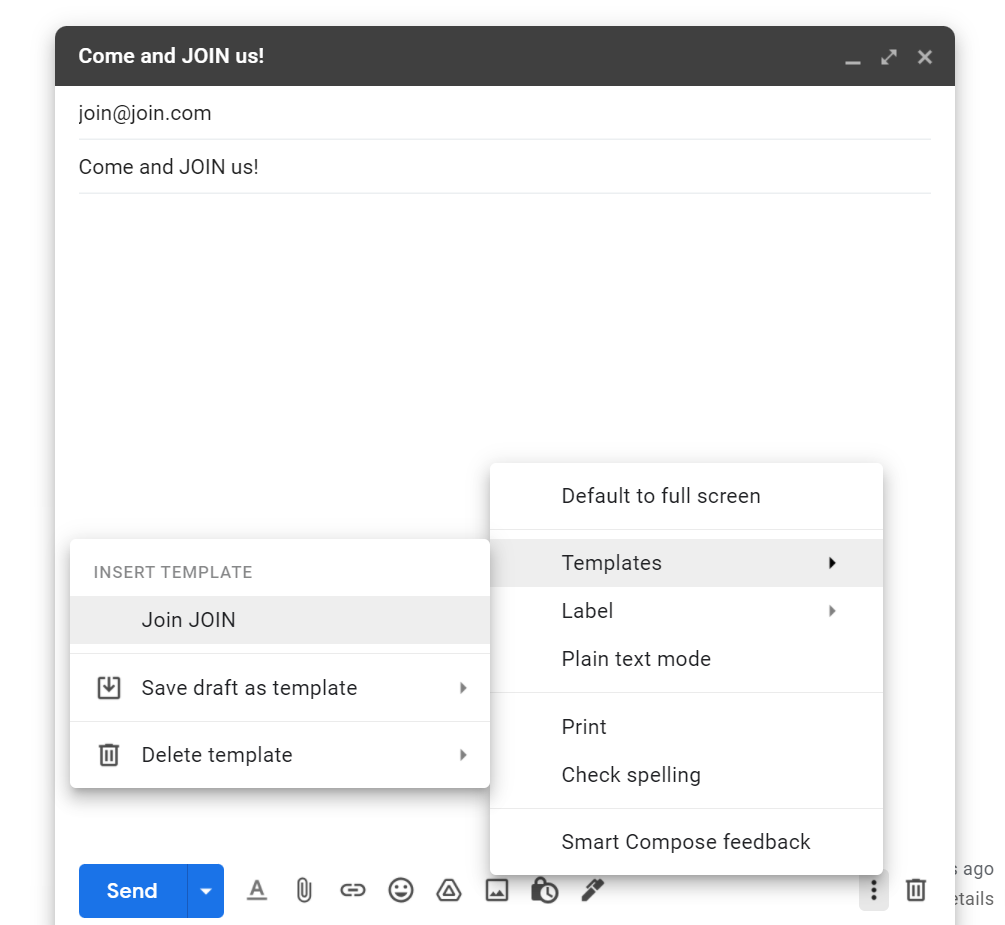 9. Activate Undo Send to unsend emails
This is hands down one of the best email tips and tricks out there. This feature allows you to cancel an email at the last-minute, after you've already pressed the send button.
Say you're messaging a colleague (or even worse, the whole team). As soon as you hit that send button you notice you made a typo or you realise you forgot to add the attachment.
Instead of having to send that excruciatingly embarrassing follow-up email ("oops, here it is with attachment!"), disturbing everyone twice in a minute, you can just use Undo Send to stop it before it's gone. With this email hack, the delivery of the email is stopped and nobody will ever know!
With Undo Send, you can choose a cancellation period of 5, 10, 20, or 30 seconds. The email will be saved as a draft, so you can easily go ahead and change it.
You can change the cancellation period of Undo Send by going to Settings > General.
10. Mute conversations
Sometimes you just end up stuck in an irrelevant email thread with dozens of colleagues who just keep emailing back and forth. You stopped reading ten emails ago so now every incoming message is just clogging up your inbox for nothing. You don't want to see all those emails but it's still an important thread, so deleting it is not an option either.
Luckily for you, Gmail has the option to mute group conversations. By muting a conversation you aren't deleting it. Instead, new emails are automatically archived and they won't appear in your inbox anymore.
Boost email efficiency and productivity at work
Use these email tips and tricks to master your inbox and work more efficiently. These email hacks allow you to automate some of the more mundane tasks and customise your inbox to fit your specific needs.
Taking a moment to optimise your inbox like this can help you save hours of work every month. Work smarter, not harder.
Do you want more tips on workplace productivity? Then have a look at our tips on how to use a calendar at work.