As a recruiter or hiring manager, you know how versatile a recruitment strategy needs to be. After all, it includes much more than just posting a job on LinkedIn, getting applications from candidates, and hiring the best fit.
From sourcing passive candidates to constantly tracking (and optimising) dozens of recruitment KPIs and metrics. A well-crafted recruiting strategy includes a bunch of different, specialised sub-strategies to help grow your business headcount. And a recruitment marketing strategy should be one of those.
Here's what's covered in this article:
What is recruitment marketing?
At its core, recruitment marketing is a multi-dimensional approach designed to attract and engage potential job candidates.
It's a dynamic mix of traditional marketing principles melded with the unique needs of the recruitment process. Consider it (in general) less of a 'push' and more of a 'pull' strategy. The idea is that you're crafting compelling reasons for candidates to seek you out, rather than chasing after them.
This differs from a more traditional approach, dubbed the so-called "post-and-pray" strategy. Basically, the idea is you post a job ad on a job board, and then you simply wait (and pray) that the applications will start coming in soon.
Now job boards are still a crucial part of most companies' recruiting strategies and for good reason. But in today's fast-paced, highly competitive landscape, chances are you need to have more tricks up your sleeve.
That's why recruiters have started adopting practices from the field of marketing, especially inbound marketing.
This business methodology is about attracting customers (in recruitment: Candidates) to your brand or company. This is opposed to outbound marketing, which is about placing your company in front of potential candidates and hoping they will be interested (for example, through paid advertisement).
You can find a detailed explanation of the inbound marketing concept in this HubSpot guide on the topic.
That said, a truly holistic set of recruitment marketing campaigns will blend both inbound and outbound efforts.
Why is recruitment marketing important?
In the digital age, information is just a click away, and potential job candidates are all too well aware of this. Much more than in the past, job seekers can extensively research potential employers, making it essential for organisations to manage their digital footprint.
And that's where the marketing part comes in. A robust recruitment marketing strategy ensures you're not just participating in this game, but you're ahead of the curve.
It's about creating an irresistible employer brand that appeals to the type of talent you're eager to bring on board. Next, it's about promoting brand awareness and visibility to ensure it reaches the right talent community. This can be through social media channels or any other type of recruitment marketing campaign.
How to do recruitment marketing on a budget
Now you might think this all sounds expensive, but not to worry. The list below contains recruiting marketing strategies that can be tailored to any budget.
Of course, the bigger your budget, the more options you have to build a truly holistic and successful recruitment marketing strategy. But most of these strategies you can already start for free or do on a small budget.
Read: 5 best recruiting software for small business in 2023 [incl. free options]
For example, start with the basics: Enhance your social media presence by regularly posting about your company culture, achievements, and job openings – it's free and can reach a large audience (see point 1 below).
Or how about setting up an employee referral programme, which is another cost-effective effort that turns your staff into recruiters. They can share vacancies within their networks, potentially unearthing fantastic candidates (see point 3 below).
So regardless of whether you're running a start-up or head the HR team at an enterprise organisation. These key recruitment marketing efforts can benefit your business.
11 essential recruitment marketing strategies
Here, we present ten strategies that we firmly believe will be an asset to any organisation. We'll delve deeper into each strategy, so by the time you've finished reading, you'll have a comprehensive understanding of how to apply them in your recruitment marketing efforts.
So let's dive in and find out how human resource managers use marketing concepts in the recruitment and hiring process (even on a tight budget).
1. Social media recruitment
Don't underestimate the power of social media platforms in recruitment. Sites like LinkedIn, Facebook, and Instagram are not just for sharing memes or snapshots of your lunch.
These platforms can be valuable tools for growing your brand's visibility and attracting top talent. Craft engaging content that paints an appealing picture of your company's culture and values. And don't be a wallflower – join the conversation in the comments of popular or trending posts!
A strong social presence can offer a cost-effective way to boost your profile and attract potential candidates.
Suggested read: How to create a LinkedIn Business page that attracts great talent.
2. Employer branding
Your employer brand is a projection of how potential candidates perceive your company. This perception is influenced by multiple elements, from your presence on social media (as mentioned in point 1 above) to reviews on platforms like Glassdoor.
Focus on portraying your company's mission, values, and culture in an appealing way to attract like-minded candidates. Start with your own website, but ensure to have this branding resonate throughout all your channels. Think of where your potential applicants might find you and perfect the way you present yourself across these channels.
For example, if you have a job posting online on a job board, make sure it does your company justice. Before even posting your job advertisement, check that all the information provided reflects your company, its brand, and its culture.
Does your company value diversity, equity, and inclusion (DEI)? Then ensure you follow best practices on how to write inclusive job descriptions.
The complete guide to employer branding in 2023
This employer branding playbook is your go-to guide to finding out how you can build a strong employer brand that helps attract and retain top talent.
Read guide
Free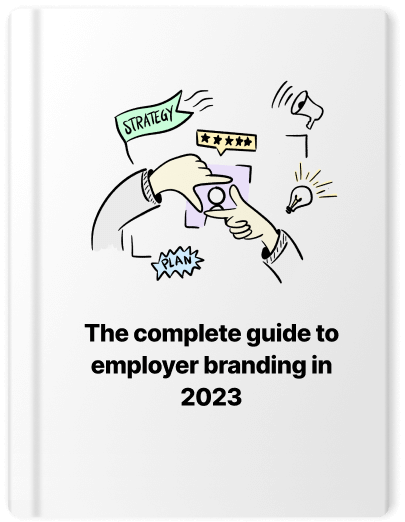 3. Employee referral program
Consider your existing employees as ambassadors who can act as your most effective recruiters. They have a deep understanding of your company's culture and the type of person who would thrive within it.
A well-structured employee referral programme, perhaps incentivised with rewards, can lead to the recruitment of high-quality candidates who are likely to be a good cultural fit and stay with the company longer.
It's also a very cost-effective method that doesn't require much additional effort from your side. Once you set up the program, it's a truly hands-off, inbound recruitment marketing strategy. You don't have to do anything else until the application comes in!
4. SEO for job postings
If a job posting is published online and no one sees it, does it make a sound? Well, no. That's why ensuring your job listings are visible on search engines is crucial.
Search engine optimisation (SEO) is a subfield of Marketing that's all about following best practices and tactics to increase the chances of your website ranking high on search engines (like Google or Bing). And that same logic applies to the job ads you create and publish.
Optimise your job listings with keywords relevant to the role and your industry to ensure they pop up in search engine results. Remember, it's not about keyword stuffing – your descriptions should accurately represent the role and your company.
Using a dedicated job publishing tool (like JOIN's free recruitment software) can help you here as it automatically ensures your postings meet many SEO needs.
5. Job board optimisation
Speaking of job listings. Think of job boards as a bustling marketplace where employers and job seekers converge. Optimising your presence on these platforms can involve tactics like sponsored listings or ensuring your postings are up-to-date and descriptive enough.
Tailoring your job ad for each platform can also significantly enhance your visibility. And creating a data-driven strategy as to where you distribute and market your ads can help you increase your chances of getting your ads published in the right places.
For example, be sure to use a mix of generalist and niche job boards to promote your ads on, depending on the specific role you're hiring for. And if you use a dedicated multiposting tool and applicant tracking system (ATS), like JOIN, you get easy one-click access to hundreds of job boards. From generalist to niche, and from free to paid (with special discounts).
6. Attend recruitment events
Recruitment events such as career fairs, online webinars, or meet-and-greets offer valuable opportunities to connect with potential candidates. It's a recruitment marketing example that uses offline marketing tactics and applies them to the field of recruitment.
Such interactions give candidates a taste of your company's culture and the opportunity to meet some team members. And with virtual platforms gaining traction, don't let geographical boundaries hold you back from hosting and participating in events to improve your recruitment marketing funnel.
7. Content marketing
Content marketing in recruitment goes beyond job postings. It can incorporate blog posts depicting life at your company, testimonials from current employees, or informative articles about your industry.
Such content can not only engage potential candidates but also demonstrate your company's expertise and values. Content marketing is closely related to the field of search engine optimization that we mentioned earlier.
By creating content you can attract people to your website that are searching on search engines for information related to your industry or niche. Given that these people are interested in the topics you are writing about, there's a good chance that a portion of these people might be interested in working for your business.
As such, this is a great way of reaching passive candidates who could become prospective employees.
8. Build the best careers page
We spoke about your employer brand above and places where you can showcase and promote this. One of the best ways to boost your employer branding is by creating a career page that speaks to your target audience.
Your career site is the perfect place to show prospective employees what your company is all about. So be sure to highlight your employee value proposition (EVP), your unique company culture, and of course your current open positions and job opportunities for potential candidates.
Did you know that with JOIN's free software, you get a customisable, personal career page (with a unique URL) completely for free? And after a recent revamp of our career page design options, we're certain you'll love getting one for your business!
So create your account today (no card required):
9. Further perfect the candidate experience
You hopefully already gained some valuable insights and recruitment marketing activities and marketing ideas for recruitment to improve your talent acquisition. But all of the above is – to put it bluntly – useless if you don't take the time to create a positive candidate experience.
It's important to offer an enjoyable, fast, and smooth candidate journey (also check out our article on the 5 candidate journey stages). For example, you won't attract top talent if it takes you weeks to reply to an application. By the time you get back to them, chances are the competition has already swooped them up.
In terms of connecting marketing with the candidate experience, ensure your messaging is consistent, friendly, and aligned with your employer branding. Nurture relationships with prospective employees directly from the first touchpoint.
This could be done by implementing an (AI-powered) chatbot that already helps candidates with their main concerns. But great candidate engagement continues throughout the recruiting process. From your "thanks for applying" email confirmation to the way you communicate with candidates throughout the process (even when rejecting a candidate).
For more information, check out our guide to creating a smooth recruitment communication strategy!
10. Programmatic advertising
This relatively new digital marketing recruitment strategy harnesses the power of AI to supercharge your recruitment marketing plan.
Programmatic advertising leverages artificial intelligence to purchase and optimise job ads in real time. It enables your job postings to reach the most suitable candidates at the most opportune times.
This approach can significantly increase the visibility of your job postings and attract more qualified candidates. Be aware, though, that setting up marketing campaigns like this might be a bit on the costly side for small-to-medium sized businesses that are on a small budget.
11. Data-driven recruiting
Finally, let's not forget about data. Using data to fine-tune your recruitment strategy can involve analysing sources of hire, time-to-fill metrics, or feedback from the candidate experience. These insights can guide you in making evidence-based decisions and in continuously refining your recruitment process.
Approach your recruitment efforts as marketing campaigns (you could even check in with your marketing team for help, if you have one) and set goals, track performance, and analyse results afterwards.
Not sure what data to track? Then check out this article for inspiration: 7 essential talent acquisition metrics you should track.
Beyond recruitment marketing strategies
Recruitment marketing isn't a passing fad – it's a strategic imperative. The strategies we've explored here are designed to help you not only attract but also engage and retain top-tier talent. They'll empower you to create an employer brand that resonates with the type of candidates you're eager to attract.
Recruitment marketing isn't a one-size-fits-all model, and your strategy should be as unique as your organisation. It's about experimenting with these strategies, tracking your success, and adjusting accordingly. With a thoughtful and proactive approach, your recruitment marketing strategy can become a helpful instrument in your business toolkit.
And beyond those strategies, be sure to keep up further building a great place to work that not only attracts job applicants, but keeps them at your company for many years to come. Need more help doing just that? Then check out these strategies: