Luckily, recruiting software for small businesses can offer the solution. And you can find 5 of the best ones listed below!
These recruitment tools are either specifically aimed at the needs of small businesses, or they are large recruitment software solutions that offer free or less expensive plans for small and medium-sized businesses (SMBs).
In this article, we walk you through some of the most important features to look for in recruitment software for a small business. Based on these features, the specific needs of small businesses like yours, and ratings and reviews of customers, we've listed the top 5 best recruiting software solutions for small businesses.
What features make a tool the best recruiting software for a small business?
With a constantly changing job landscape with both surges in job opportunities and 51% of global employees actively or passively job seeking (source: Gallup State of the Global Workplace: 2023 Report), it's important to have a solid recruitment process in place.
This ensures your business can more quickly and effectively find and attract top talent when the need arises. And that's where dedicated recruitment software comes in handy. But there are thousands of tools out there, so deciding which is best for your use case can be challenging.
As a small business, your needs differ from large or enterprise-size companies (and so does your budget). Although it's tempting to simply look for the most complete recruiting software on the market, chances are you won't be able to afford it—nor do you really require all the features it offers.
Instead, you need to identify your main struggles and pain points when it comes to recruiting as a small business and find software that solves these specific problems.
Hiring without an HR team
For starters, in most cases, you won't have a dedicated HR team in your business yet. Instead of having an experienced recruiter do the hiring for you, chances are your company's recruiting efforts are managed by yourself or other employees without the same level of know-how that trained recruiters and hiring managers have.
As it's not your (team's) full-time job, you have to squeeze in the work while also still focussing on your main role in the company. This means that you have limited time and resources to spend on recruiting.
It also means that there are probably several employees all taking on a part of the recruitment for your small business, rather than one dedicated person doing (and owning) the full process.
And this means you need recruiting software that many people can collaborate on without the process being messy and unorganised. You need a centralised tool that keeps track of anything, rather than dozens of spreadsheets, documents, and overflowing email inboxes.
Also read: Hiring employees without an HR department
Top 7 small business recruitment software features
Every company is unique, so the specific software features and functions that you're after may differ depending on the way you handle your recruitment and hiring processes.
But here are a few features that tend to be particularly relevant for small business recruitment:
Free or budget plans: The number one problem of a small business compared to an enterprise business when it comes to recruiting software? The smaller budget. That's why it's essential to find a tool that offers a free plan or at least a budget plan tailored to that of an SMB or startup like yours. And given that financing hurdles are high on the list of top reasons small businesses fail, it's important that you only pay for what you truly need.
Career page and job widget: You want a professional-looking career page where potential candidates can easily find the job positions that you are trying to fill. If you're a small company, creating a career page (and keeping it up to date) can be a struggle that a recruitment software integration can solve.
Job posting features (multiposting): Online job boards are often the best place to find candidates. That's why many tools include a multiposting feature. This allows you to create a job ad once and then post it to dozens, sometimes hundreds, of job sites with just one click.
Simple tracking of applications: A key functionality most SMBs are after is to easily track incoming applications and manage those applicants as they move through the steps of the hiring process. This can be a standalone software, called an Applicant Tracking System (ATS), or this applicant tracking system for small companies can be integrated into a larger HR or recruiting tool.
Easy usage: If you're not a recruiter or hiring professional, a complicated tool with a bunch of bells and whistles might make your life harder rather than easier. Instead, you're probably better off with an easy-to-use tool with a simplified interface.
Straight-forward setup: Speaking of easy, you want to look for a tool that doesn't require a complex, lengthy setup process. Instead, pick software that you can start using straight away with only a few clicks.
Integration with other HR software tools: You might already use other HR tools in your business. If so, make sure the recruitment software you choose offers integration with your other tools. For example, HR departments often use tools for matters like payroll and other staffing admin. Being able to integrate this with your recruitment software of choice ensures you can more easily move people from being an applicant, to a candidate, to personnel.
Automation: More automation means less time spent on manual actions. An example of a handy automation is CV parsing, which automatically extracts any useful information from an applicant's CV. Or think of automated email messages to reject applicants.
Collaboration tools: Even if your business is small, chances are there will be more than one employee using the software. That's why you want a recruiting tool that allows for easy collaboration between you and your colleagues.
Customer support: Recruitment in small businesses is often done by people who aren't actually recruiters. So there's a good chance that you can use some help along the way. That's where quality customer service will come in handy.
The 5 best recruitment software for small businesses in 2023
Now that you know a bit more about your needs and how a hiring tool might help, let's dive into the list of recruitment tools. These software solutions were selected based on the specific small business criteria listed above.
1. JOIN
First up is our own tool – JOIN – but not just because we love our own product so much or because we think our software beats all the others on this list. We're topping the list because we created a free recruitment software that's specifically built with the needs of small- and medium-sized businesses in mind.
Driven to democratise talent attraction for SMBs worldwide, our user-friendly talent acquisition software is easy to set up and free to use. You don't have to be a recruiter or hiring expert to use our intuitive tool. With JOIN, anyone is empowered to find, attract, and hire top talent faster and more efficiently.
JOIN's a free recruiting software for small businesses. The fact that you don't have to sign up for any paid plans means you can simply use JOIN without having to commit a part of your (limited) budget. This is one of the main reasons why start-ups and small businesses choose JOIN over our competitors.
In fact, our solution is trusted by 60,000+ companies across the globe, with our customers giving us great reviews:

Top benefits and features
So what are some of the top features that stand out when comparing JOIN to other recruiting software? Below, we walk you through some of the key features we offer, particularly those that are important for small businesses like yours.
100% free plan (not just a trial):
As a small business, you don't want to get roped into an expensive pricing plan or only be able to use a tool for free for one or two weeks. That's not enough to really test if it's the right tool for you!
That's why JOIN allows you to use our software completely for free for as long as you like – no credit card required. This plan gives you up to 2 active job ads and access to many more core features!
Easily customisable career page:
And unlike the competition, we also give you this recruiting software feature for free, so even the smallest business can benefit from a beautiful career page.
Once you create your account, you can choose to create your career page that you can customise and adapt to your employer branding.
And do you already have a career site? Then our free job widget lets you easily synchronise your job ads with your existing career page.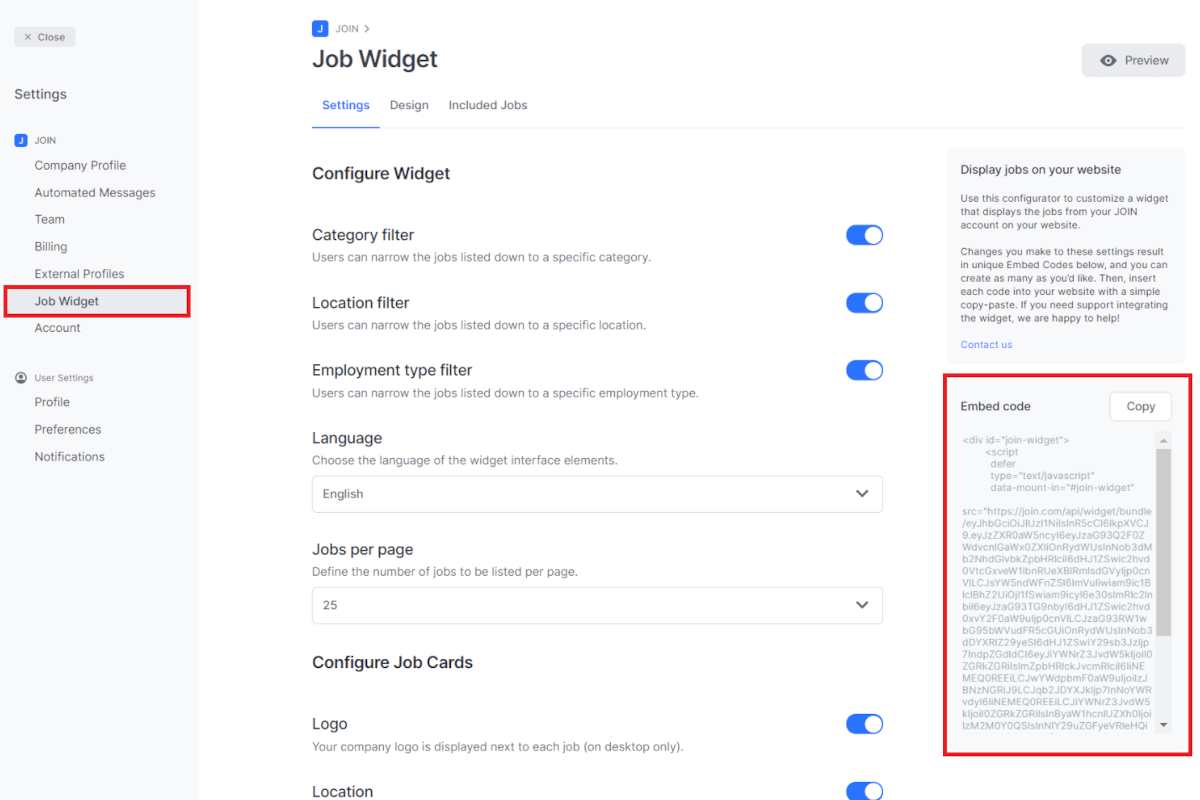 AI-powered Smart Job Ad Builder:
We recently added an AI-powered job ad creator to our list of free features! Simply select your required job title, and the power of AI will generate a complete job description in seconds. Directly publish the job ad or edit it further to meet your business needs. Creating a job ad was never this easy!
Of course, you can still insert your own written job description if you prefer, or you can generate the first version with AI and adapt the text afterwards.
One-click multiposting to 15+ free and 250+ premium job boards:
Reach more qualified candidates with just one click. Promote job postings on multiple job boards with the click of a button due to our multiposting solution.
Inside the dashboard in your account, you can see an overview of both the standard (free) job boards you can select from and the premium job boards. For the premium job boards, we offer hefty discounts on job postings due to our partnerships with top job boards, such as LinkedIn and Indeed.
You can also benefit from our job ad bundles, which let you post jobs to multiple job sites that are thematically related and often used alongside each other by other JOIN users. For example, you can use our Remote Job Boards Package for remote jobs or our IT Package if you need to hire IT talent.
With JOIN, the best talent is always just a finger-click away!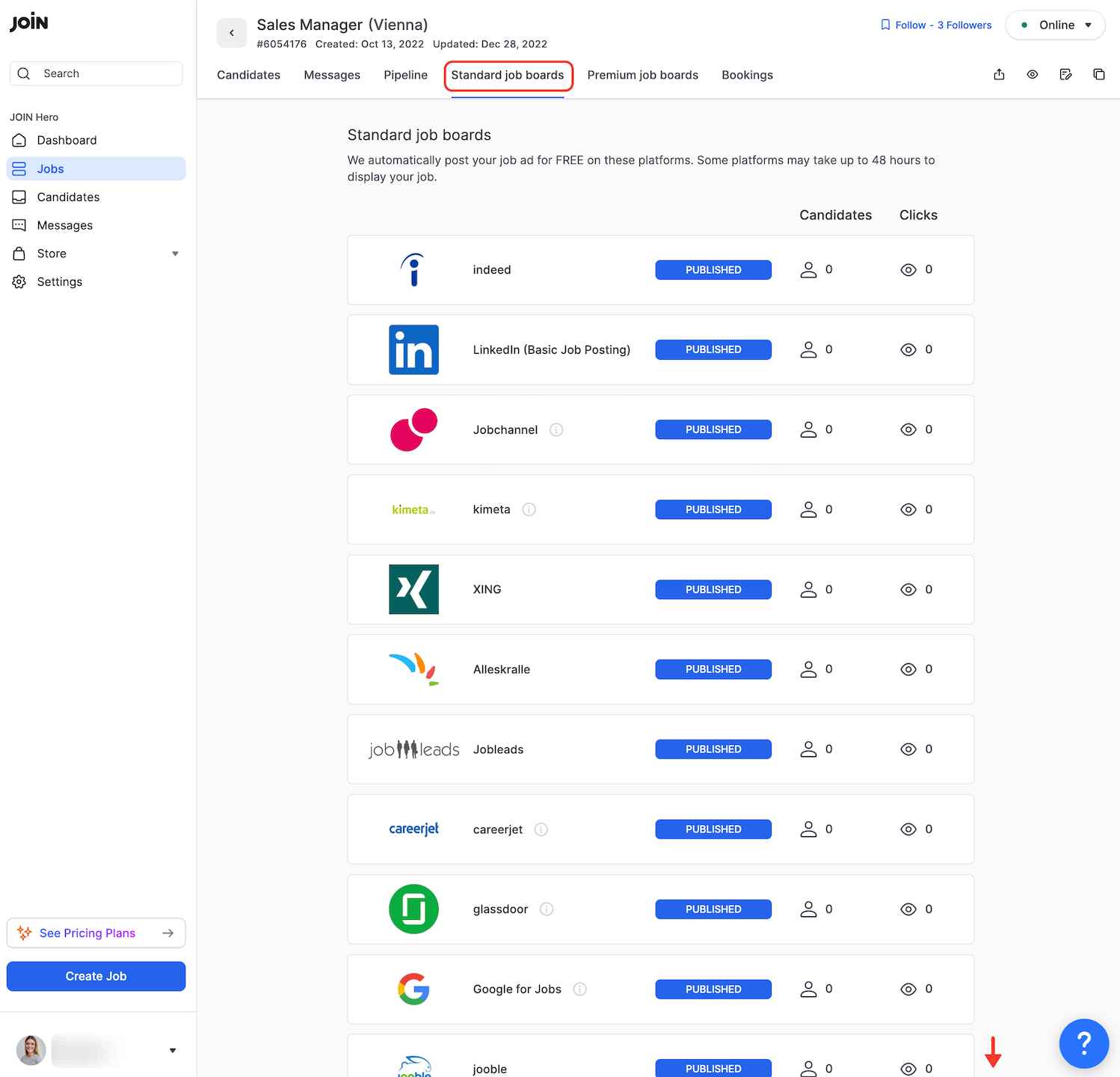 More great features to help small businesses
Our recruiting software for small businesses contains many more great features to help you and your SMB improve your recruitment process. Let's go through some of the most important ones:
Easy in-app interview scheduling means no more messy candidate management with constantly checking calendars
Candidate Assessment Management to ensure you only hire the best-qualified talent
Efficient collaboration solutions that let you and your hiring team collaborate with each other with ease
Custom or pre-selected screening questions to filter out unqualified candidates faster
Hiring scorecard feature to structure your interview process
Applicant tracking system with resume parsing
Customisable candidate pipeline for better candidate management
Add-ons like API access and integrations with other HR software tools
Great customer support and an extensive help centre
100% free plan & 3 additional

pricing plans

that scale with your business
2. Kenjo
Just like JOIN, Kenjo was created as a recruiting software for small business owners and SMB hiring teams. But with Kenjo, the focus is more on HR tasks and features. That said, they do offer a range of recruiting and hiring features as well.
Kenjo is primarily a human resource management system (HRMS) designed to facilitate HR processes for small to medium-sized businesses. Launched in 2015, it's recognised for its extensive feature set that caters to different HR functions, including recruitment.
Some key recruiting features include:
Applicant tracking system: Kenjo's ATS helps HR teams manage and streamline the recruitment pipeline by tracking applicants throughout the hiring process
Job posting and distribution: This feature enables users to post job vacancies on multiple job boards simultaneously to reach a broader candidate pool
Collaboration tools: The software encourages team collaboration by allowing HR teams to share interview notes and communicate with each other on candidates within the platform
Interview management: Create and track interviews with a reminder system
Reports and analytics: The software provides detailed reports to analyse and optimise your hiring process
Candidate relationship management (CRM): Kenjo's CRM function allows HR teams to build and maintain relationships with potential candidates, even if they are not a fit for current vacancies
Compliance tools: Kenjo also includes features to help ensure that your recruitment processes remain compliant with relevant laws and regulations, including background screening of candidates
With its robust and easy-to-use feature set, Kenjo provides small businesses with a comprehensive solution to manage their recruitment processes effectively.
Kenjo does not offer a free plan, unfortunately, but you can start using their software on a Starter plan, which costs €5.40 euros per employee per month.
3. Greenhouse
Greenhouse is more similar to JOIN in that it's focused on hiring rather than including HR features. Greenhouse offers one of the best talent acquisition software used by businesses of all sizes to streamline and optimise their recruitment process.
Established in 2012, it provides a comprehensive suite of tools designed to make every aspect of hiring more efficient and effective, from sourcing candidates to onboarding new hires. Its approach to integrating and automating the recruitment process has led to its recognition as a valuable tool for small businesses.
Some key recruiting features include:
Applicant tracking system: Greenhouse provides a comprehensive ATS that helps HR teams manage the entire process, from application to offer.
Candidate sourcing: This feature enables users to source candidates from multiple channels and keep track of sourcing data.
Collaboration tools: Greenhouse offers collaboration tools that allow teams to share notes, feedback, and evaluations on candidate profiles, fostering a more collaborative hiring process.
Customised interview kits: Greenhouse allows you to design tailored interview plans to ensure consistent, relevant, and fair interviews for all candidates.
Reporting and analytics: The software provides robust reporting and analytics tools, enabling teams to measure their hiring efficiency and improve their recruiting strategies.
Job board integration: Greenhouse can integrate with a bunch of job boards, making it easier to distribute job postings to a wide audience.
Onboarding tools: Beyond recruitment, Greenhouse also provides onboarding tools to help companies smoothly transition new hires into their roles.
Diversity, equity, and inclusion feature set: To help prevent bias in recruiting and support the diversity, equity, and inclusion (DEI) efforts of your company, they offer a special DEI feature to support in this regard.
With these comprehensive features, Greenhouse offers small businesses the capability to improve their hiring efficiency, collaboration, and effectiveness, making it a strong candidate for businesses looking to optimise their recruitment process.
Unfortunately, Greenhouse currently does not publicly provide pricing details. You can see what's included in their pricing plans, but to get the price, you need to request a product demo.
4. BambooHR
Just like JOIN, BambooHR was created as a recruiting software for small business owners and SMB hiring teams. With BambooHR, the focus is more on HR tasks and features, but they do offer a range of recruiting and hiring features as well.
Founded in 2008, the company aims to provide easy-to-use tools that can automate and streamline HR tasks, allowing HR professionals to focus on more strategic initiatives. As such, the HR software is classed as a human resources information system (HRIS).
While the system includes many HR functionalities, its recruiting and hiring features do stand out for their comprehensiveness and user-friendly nature.
Some key recruiting features include:
Applicant tracking system: The ATS allows HR professionals to track applicant progress through the recruitment process, simplifying the organisation and improving the hiring process's speed and efficiency
Job posting: BambooHR lets you post to multiple job boards at once, widening your potential applicant pool
Customisable application templates: The software provides customisable job application templates to help streamline the application process
Collaboration tools: Within the software, HR teams can easily share notes and ratings on candidates, enhancing team collaboration
Automated hiring workflows: These workflows help in standardising the hiring process and ensure each step is followed consistently
Mobile hiring app: With the BambooHR mobile app, HR professionals can review and rate applicants, communicate with candidates, and even extend job offers from anywhere
Reporting and analytics: BambooHR offers extensive reporting capabilities, helping businesses to understand and improve their recruiting process
BambooHR's emphasis on ease of use, combined with the comprehensive nature of its tools, makes it a strong option for small businesses seeking to streamline and optimise their recruitment processes.
BambooHR offers a 7-day free trial, but does not offer further pricing details. For more information, you need to request a demo.
5. Workable
Workable is one of the biggest players in the recruiting software space. They say they designed the tool to simplify the hiring process for businesses of all sizes.
Founded in 2012, Workable focuses on providing a comprehensive, user-friendly solution to streamline and automate recruitment workflows. Its wide-ranging features and integrations make it suitable for small businesses seeking to enhance their recruitment effectiveness and efficiency.
Some key recruiting features include:
Applicant tracking software: Workables's ATS offers a centralized platform for managing job applications and tracking candidates' progress throughout the recruitment process.
Job board distribution: Businesses can publish their job postings to more than 200 job boards, maximising their reach to potential candidates.
AI-powered search and sourcing: Workable leverages artificial intelligence to help you find and source potential candidates from a vast online database.
Candidate pipeline: This feature provides a visual representation of your recruitment pipeline, making it easy to track candidate progress and manage multiple vacancies simultaneously.
Interview scheduling and evaluation: The recruiting software offers an integrated scheduling tool and customisable hiring scorecards to streamline interview arrangements and assessments.
Reports and analytics: The tool provides detailed reports to help businesses track their performance and identify areas for improvement.
Mobile app: The platform comes with a mobile app, enabling recruitment tasks to be completed anywhere and anytime.
Collaboration tools: The recruitment software enables HR teams to share notes and evaluations of candidates, promoting a collaborative hiring process.
Workable delivers an all-in-one recruitment solution that can help small businesses manage their hiring process effectively and efficiently. The downside of the comprehensive offering of features is the price attached to it, so this solution is only suitable for SMBs with a big budget.
Workable pricing plans begin with the Starter pack at $149 per month, which allows for up to 50 employees. The Standard plan, starting at $299 per month, includes a 15-day free trial.
Choosing the best recruitment software solution for your small business
The best recruiting software solution for your small business depends on your company and requires quite some thought and consideration. We hope our breakdown of the topic in this detailed guide helps you make that decision, but we can imagine it's a lot to digest! So let's quickly recap.
First and foremost, you should consider your specific recruitment needs and the size of your business. The right recruitment software system should scale with your company and be flexible enough to accommodate growth and changes.
That said, you are still a small business, which probably means you only have a limited budget to work with. So carefully consider the pricing model and ensure that it fits within your budget. Luckily, several of the hiring software for small businesses mentioned above offer a free trial of their product so you can test it out.
Of course, the offered features should also align with your requirements. If you're a two-person team and only plan to hire two or three new team members in the following months, it might be that you don't really have the need yet for very detailed analytics and reporting.
So check the feature offering and pick a product that offers the key features you need, such as an applicant tracking system, job multiposting capabilities, or easy collaboration.
And speaking of easy. When choosing between hiring software solutions, be sure to pick a tool that's intuitive, user-friendly, and doesn't require a steep learning curve from you and your hiring managers.
Remember, the best recruitment software is the one that suits your unique needs and helps make your hiring process more efficient and effective. Good luck finding the right software for your small business!