This journey is called the candidate journey. To be able to optimise the candidate journey and make it more tangible for the entire HR team, it can be divided into different phases. It's crucial to understand the different phases of the candidate journey and to design them in a targeted way to ensure a positive candidate experience.
You should adapt your strategy to the needs and expectations of candidates in each phase. Next to the candidate journey phases are the candidate journey touchpoints or interaction points where the candidate comes into contact with your company. Common touchpoints include your company website and interviews.
Below, we'll guide you through the journey and all its touchpoints. Here's what you'll learn:
The 5 phases of the candidate journey
Before we dive in, note that the candidate's journey is sometimes divided into six or seven phases rather than five. However, we've grouped certain similar phases together to keep it simple and more easily memorable.
The candidate journey phases represent the entire process a candidate goes through while interacting with a company. We'll discuss these five phases in more detail below, as each phase has its own characteristics and requirements, you should adapt your strategy to meet the needs and expectations of candidates in each phase.
Phase 1 of the candidate journey: Awareness
The first phase of the applicant journey is about making potential candidates and active job seekers aware of your company.
This can be done through various channels such as job boards, career pages, social media, or employee referrals. A professional and attractive employer brand is crucial here to get the attention of potential candidates.
To make this phase as efficient as possible for your company, it is important to decide which channels are important for your recruiting and employer branding and to set up a strategy for these channels.
To attract as many potential candidates as possible, the easiest way is to place your job advertisement on as many generalist and niche job boards as possible. Depending on the position you want to fill, you can also target the job ad on platforms that focus on your target group to reach the right active job seekers.
With a unique and creatively designed career page, it will also be easier to convince candidates of your company and your unique corporate culture. Let our top 4 career pages inspire you to create your own career page in the best possible way.
Phase 2 of the candidate journey: Research
In the research phase, candidates start looking for information about the company, its culture, values, and career opportunities. They read company profiles, search review portals, and may seek contact with current or former employees to gain first-hand insights.
It's important that companies provide transparent and authentic information to gain the trust of candidates. Again, clear communication on your careers page or a company profile on LinkedIn plays in your favour.
A strong employee value proposition (EVP) can also help you develop your employer branding. Read here how to develop your EVP.
The complete guide to employer branding in 2023
This employer branding playbook is your go-to guide to finding out how you can build a strong employer brand that helps attract and retain top talent.
Read guide
Free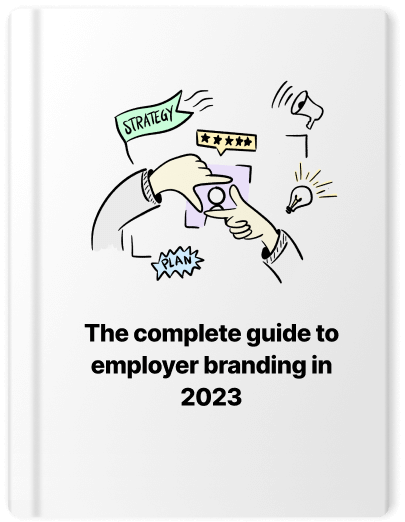 Phase 3 of the candidate journey: Application
The application phase is a crucial step in the candidate experience journey. Candidates create their application documents, such as CVs and cover letters, and submit them to your company. The fewer steps this stage of the application process has, the more attractive it becomes to apply.
To influence the quality of incoming applications in advance, you can provide application form screening questions that help you identify desirable candidates more quickly. Also, provide clear communication about the rest of the application process so the candidate knows what to expect.
Lastly, it's important to make the application process simple and user-friendly so as not to put off potential applicants. Using a dedicated software solution – like JOIN's free recruiting software – can help you make the process faster, more efficient, and more user-friendly.
Phase 4 of the candidate journey: Selection process
In the selection process, the candidate is screened for suitability for the job and fit with the company. Screening questions can also be used here to clarify whether the candidate fits the framework conditions of your advertised position.
The first interview, further interviews with other team members, tests, assessments, and reference checks help in the selection process.
✨ Exciting news: JOIN will soon offer a free assessment tool inside our recruiting software – stay tuned!
It is important to provide candidates with a positive and respectful selection process that fairly assesses their skills and potential. Clear and timely communication during the selection process is crucial to maintain candidate engagement. Check our article with helpful employee selection methods to hire better talent for your company!
The ultimate guide to creating and optimising your interview process in 2023
The better you conduct job interviews with candidates, the better-informed your hiring decisions will be.
Read guide
Free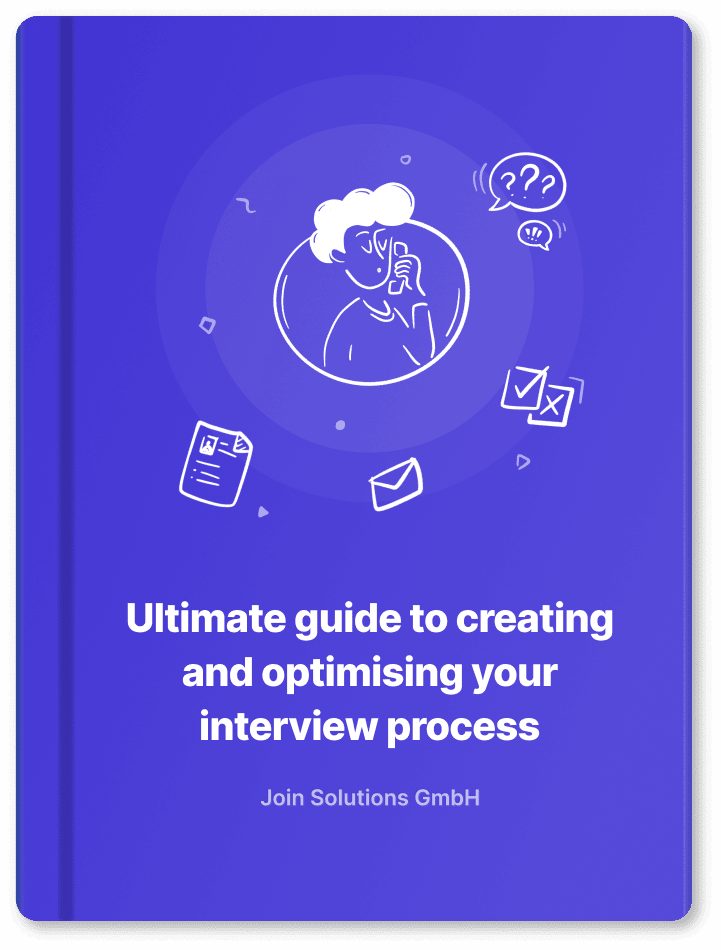 Phase 5 of the candidate journey: Decision and onboarding
In the final phase of the Candidate Journey, the candidate makes a decision whether to accept or reject the job offer. Everything that has happened so far in the candidate journey will influence this decision.
If you notice that your candidate drop-off rate is unusually high, it is particularly important to ask your candidates for feedback on the application process. This will help you optimise the candidate journey in the future.
If the decision is positive, onboarding begins, where the candidate is integrated into the company and prepares for their new role. A structured and well-planned onboarding programme helps new employees feel welcome and become productive quickly. And so the employee journey begins for your candidate.
This is how easy it is: optimising the candidate journey
The design of the candidate journey is incredibly important to reach and engage potential candidates, to inspire them, and to ultimately to win them as new employees. Companies can optimise every stage of the candidate journey to provide a fabulous candidate experience at every touchpoint and strengthen their employer brand.
To make top talent aware of you, invest in an engaging career website, use multiple channels, and provide informative content about your company culture and career opportunities.
Create a job ad and use a multiposting solution to post it on the best job boards and social media platforms with just one click to get visibility on as many platforms as possible as efficiently as possible. JOIN's multiposting tool also includes an individual, customisable career page where all your job ads are bundled for job seekers.
With an applicant tracking system, you have THE solution for optimising your application process. You manage all your job advertisements and incoming applications within one tool (also with your colleagues) and can communicate directly with applicants within the tool.
Remember to simplify your application process, give clear instructions, and communicate to applicants how to proceed.
In the selection process, companies should ensure transparency and fairness, regularly inform applicants about their status and provide appropriate feedback. Finally, it is important to respond to the candidate's decision quickly, offer a structured onboarding programme, and provide a warm welcome to new employees.
By following these steps, you can improve your company's candidate journey and the overall candidate experience, attract top talent, and position yourself as a great employer. Want to improve even further?
Then check out these other resources: