But, what makes a career page great? Well, we've rounded up some of our favourite examples to help you get an idea of what looks good and how a career page can spark interest and convey your brand to potential applicants.
The following four examples can help give you some career page inspiration and set you on the right track!
Cledara: fantastic video header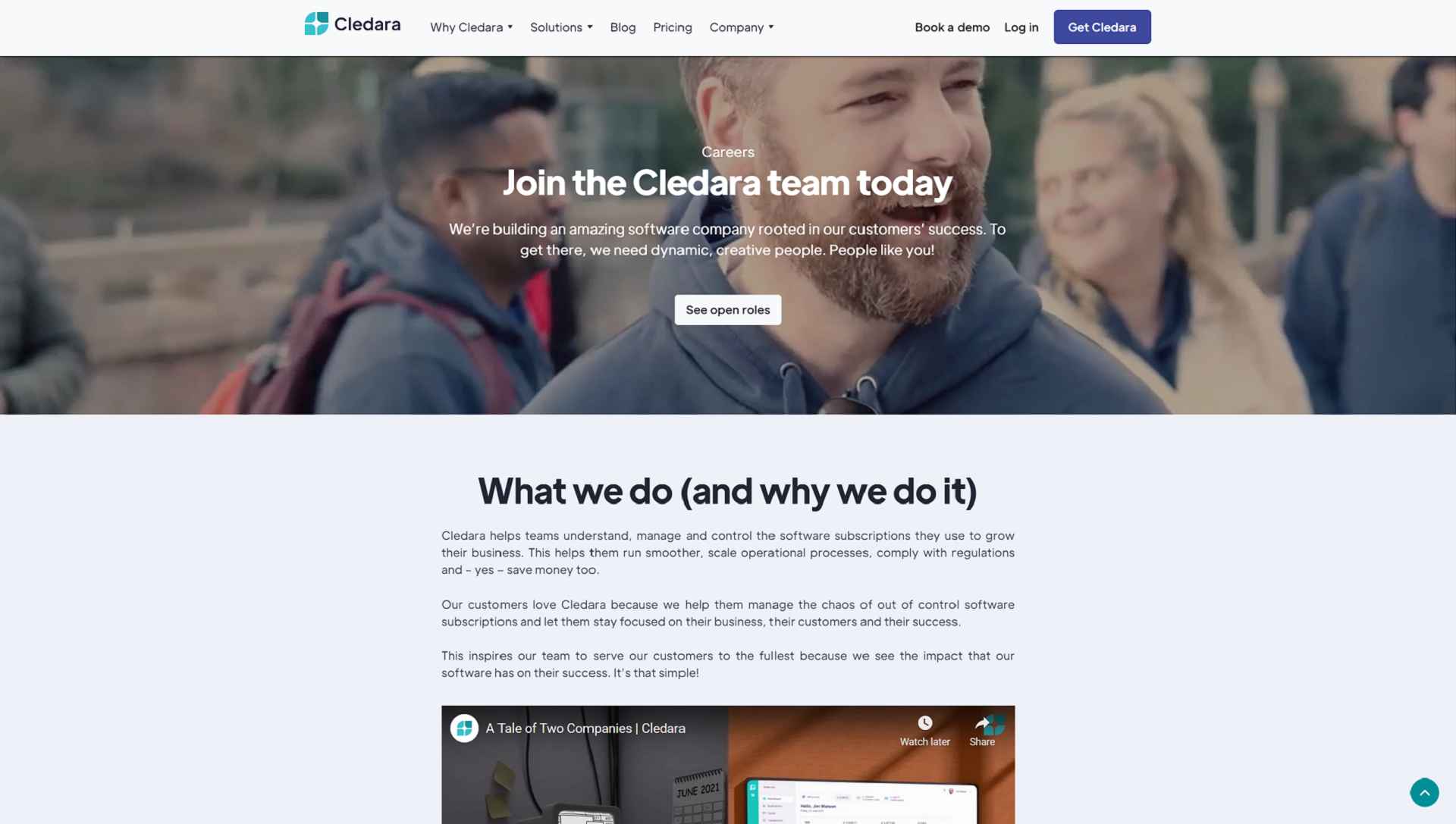 Cledara are an all-in-one SaaS management platform who aim to help companies control their tools and software subscriptions in an organised, clear way. Cledara was founded in 2018 and now has offices in both Barcelona and the UK, with a new one opening in the US soon!
What we love about the Cledara career page
Cledara's career page is extremely visual, with images and videos giving a clear insight into what life at the company is like. There are plenty of quotes and stories from the team help to build potential candidates' trust and understanding of Cledara. The highlight is a fantastic video header which is extremely unique and offers a great insight to Cledara's workplace and team.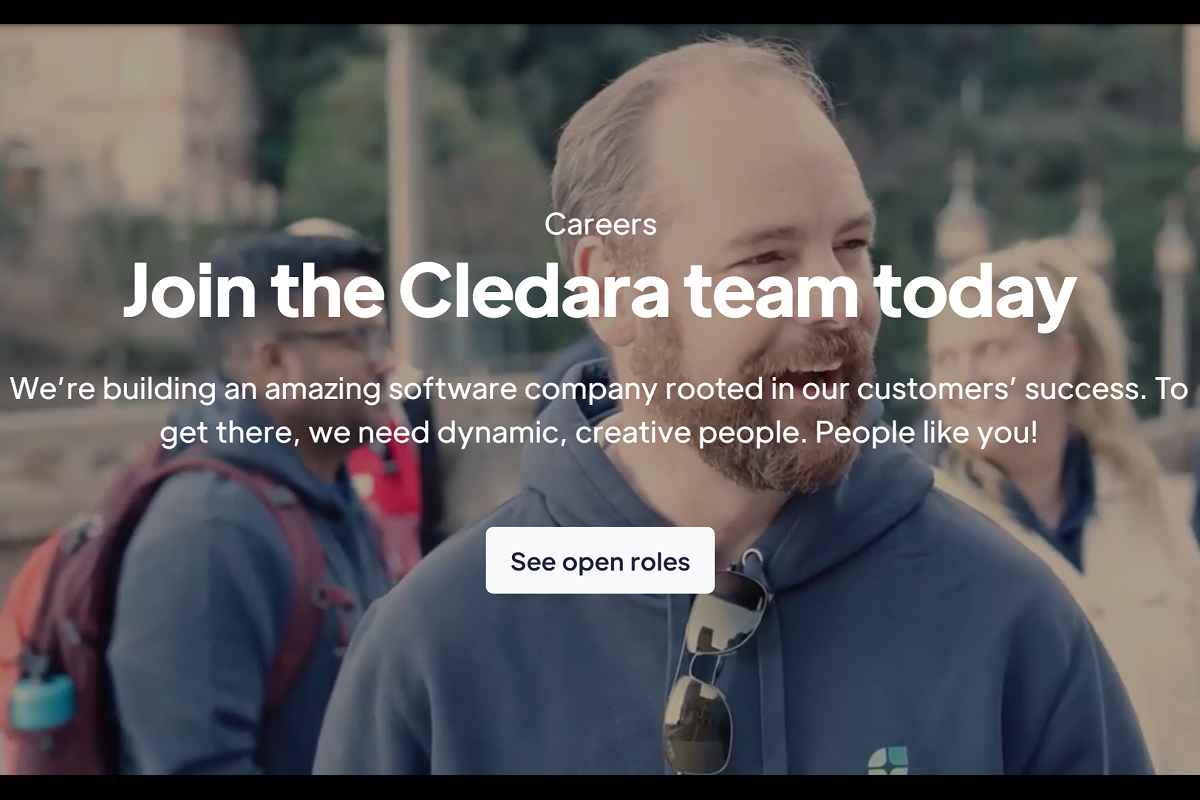 Further stand out points from the Cledara career page:
• The visual video header grasps candidate attention and is extremely unique and professional, making Cledara stand out against their competitors.
• Stories from current employees describing their time at the company and how they've developed give candidates an idea of how they will grow at Cledara.
• Inclusion of a video brings life to the page and gives candidates the opportunity to take a peek into the Cledara way of life, without taking up too much space on the page.
• Quotes and video interviews with the team will give you an idea of whom you will be working with and a better understanding of the company culture.
• Cledara's values are short, snappy, and clear, giving potential applicants a quick idea of whether the company is the right fit for them.
View all openings at Cledara here.
Spectos: excellent employee testimonials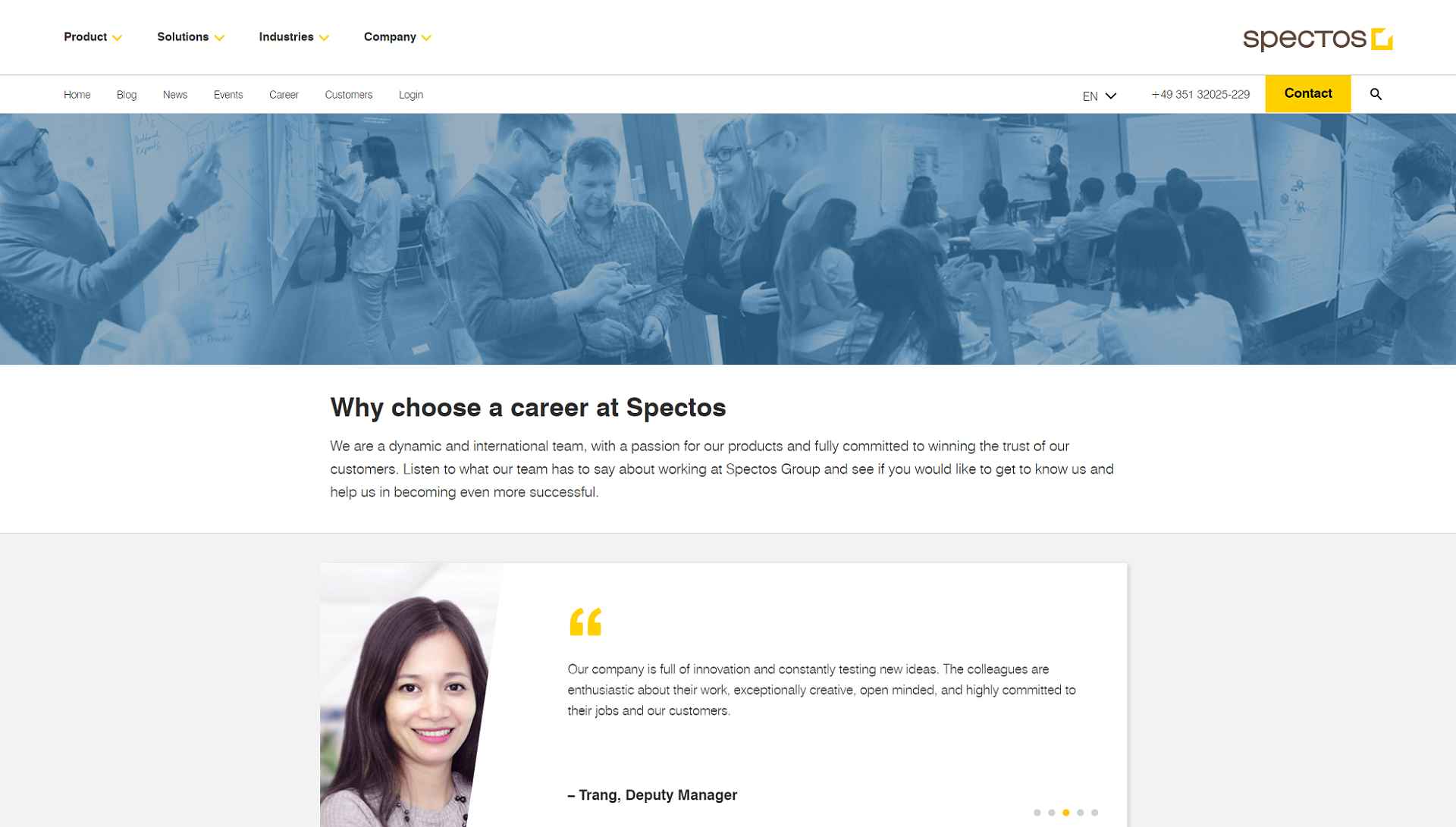 Spectos supports global customers with tailored solutions that will help them to manage, monitor and improve the quality of their services. They support numerous fields from Human Resources to Customer Services.
What we love about the Spectos career page
Spectos' career page gives an excellent insight into the working lives of employees already in the company, as well as providing visual aspects that help bring the company to life. The stand out feature here is the employee testimonials which give you a strong sense of trust in the business.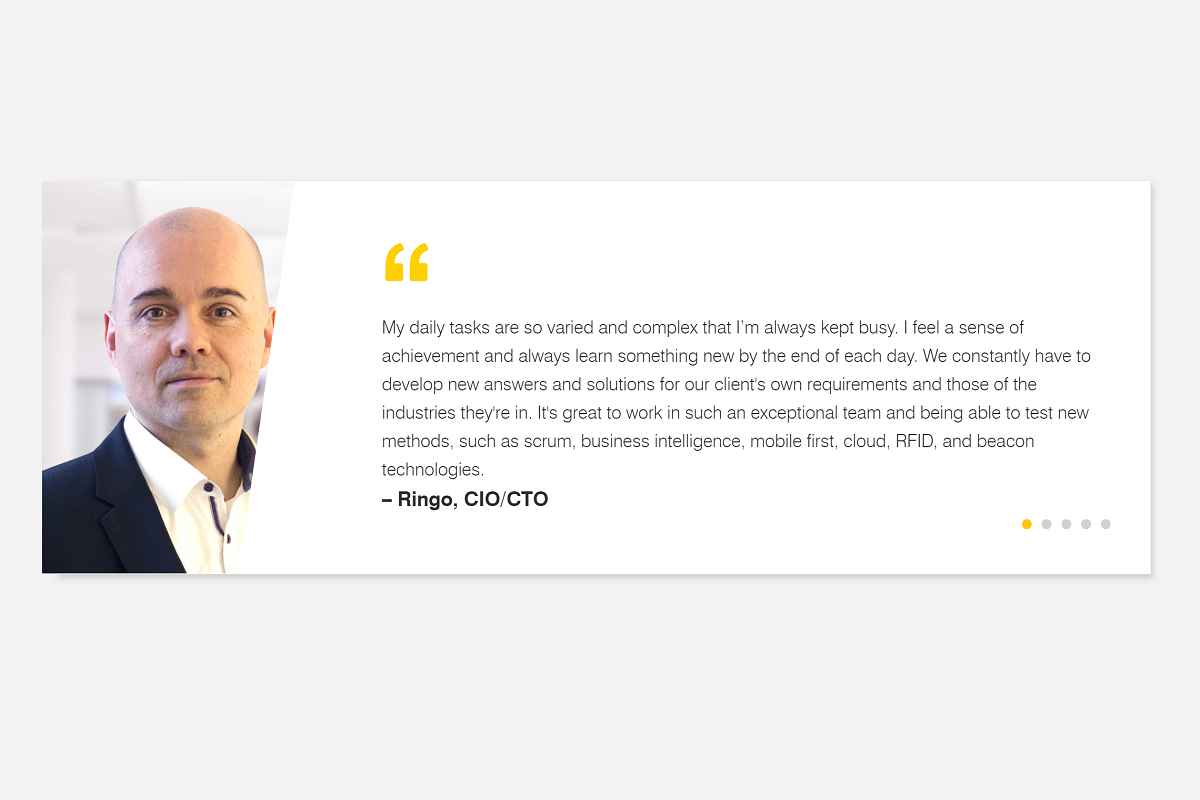 Further stand out points from the Spectos career page:

• Spectos provides in-depth and transparent testimonies from their existing employees, which builds trust in the candidate.
• Professional pictures of employees help to add a face to the Spectos brand, further instigating this trust.
• Having these testimonials in a slider means that the candidate doesn't have to scroll too far to find open roles or further information.
View all openings at Spectos here.
Alteos: great benefits section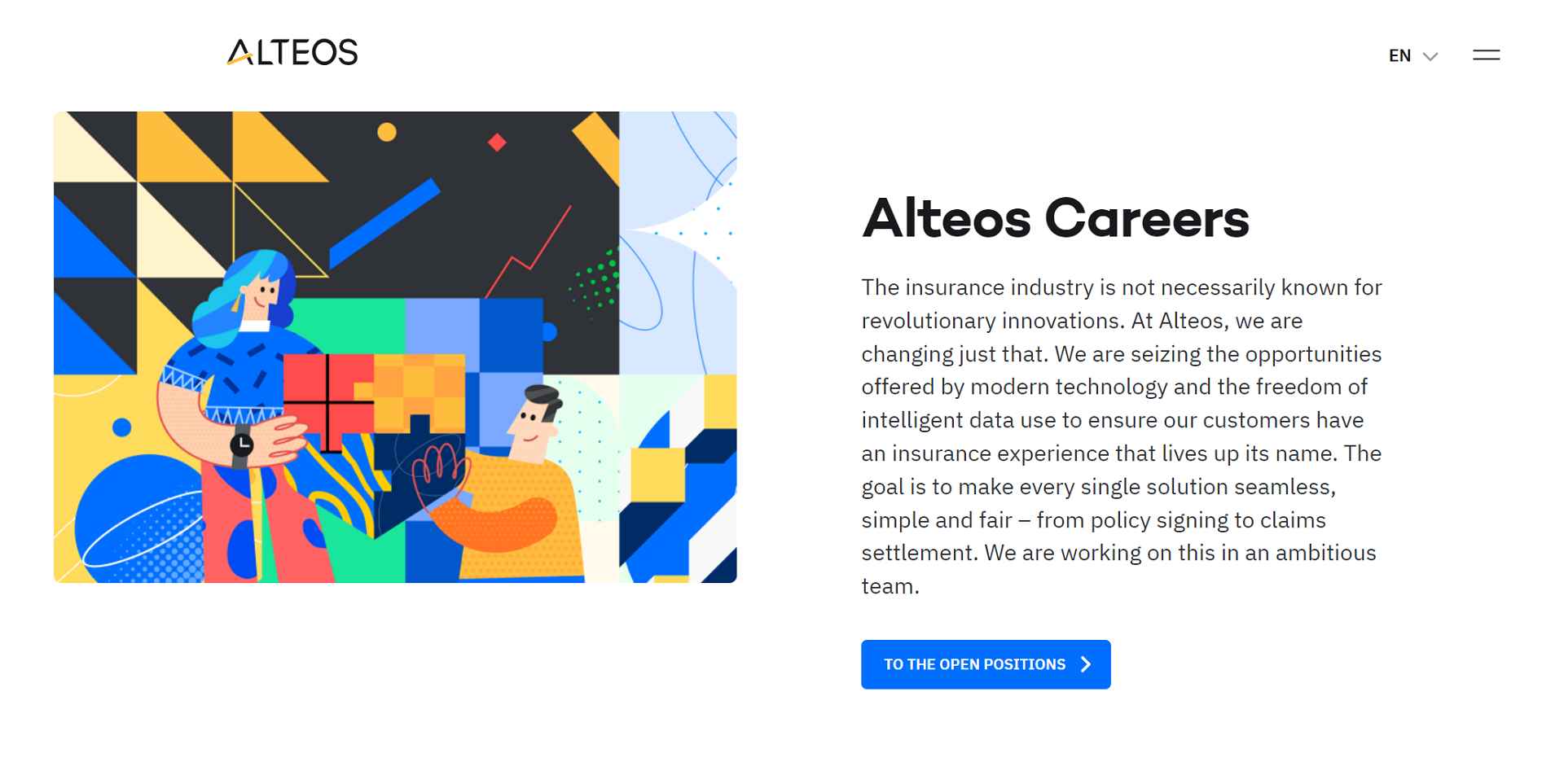 Alteos are a digital insurance company based in Berlin. They work with both sales partners and private customers to provide an easy, trouble-free, and equal insurance experience. Alteos was founded in 2018 and since then has begun to provide a wide portfolio of insurances.
What we love about the Alteos career page
Alteos' career page uses unique, colourful illustrations to bring the page to life. They quickly tell the candidate what the company can offer them and what they can expect from the working style and environment. What makes Alteos' page really special is the easy-to-digest benefits section with cute illustrations to really catch the eye.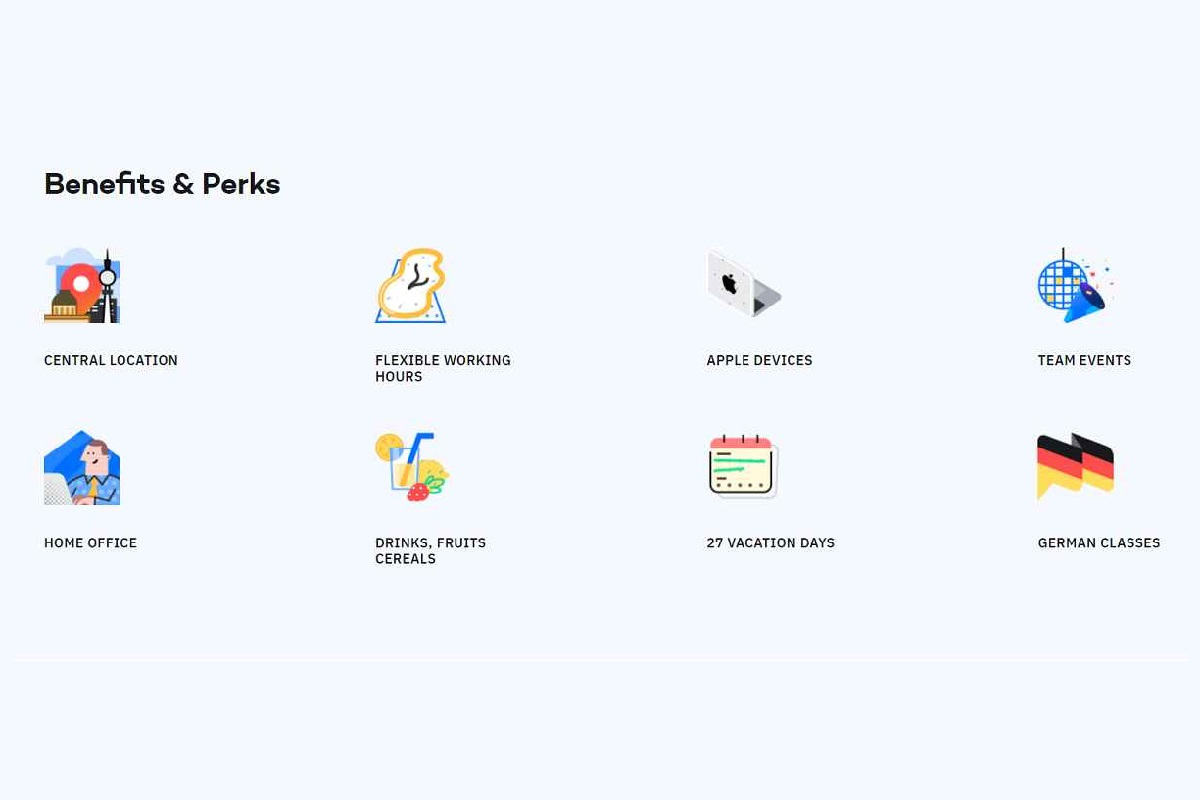 Further stand out points from the Alteos career page are:
• A brief but thorough mission statement that helps a potential candidate visualise how their own beliefs and values match up with the company.
• A strong section highlighting the benefits Alteos offer to their employees. This can help smaller businesses to compete with larger companies in the same industry, as bigger companies may not offer perks such as flexible working hours!
• Mentioning the number of different nationalities present in the team, and including strong values such as tolerance and diversity, is a fantastic way to put diverse candidates at ease. This is also a great step in building and highlighting a diverse recruiting strategy.
• Unique illustrations provide a colourful, inviting theme to the page, something that can make Alteos stand out against competitors!
View all openings at Alteos here.
Yamo: strong diversity focus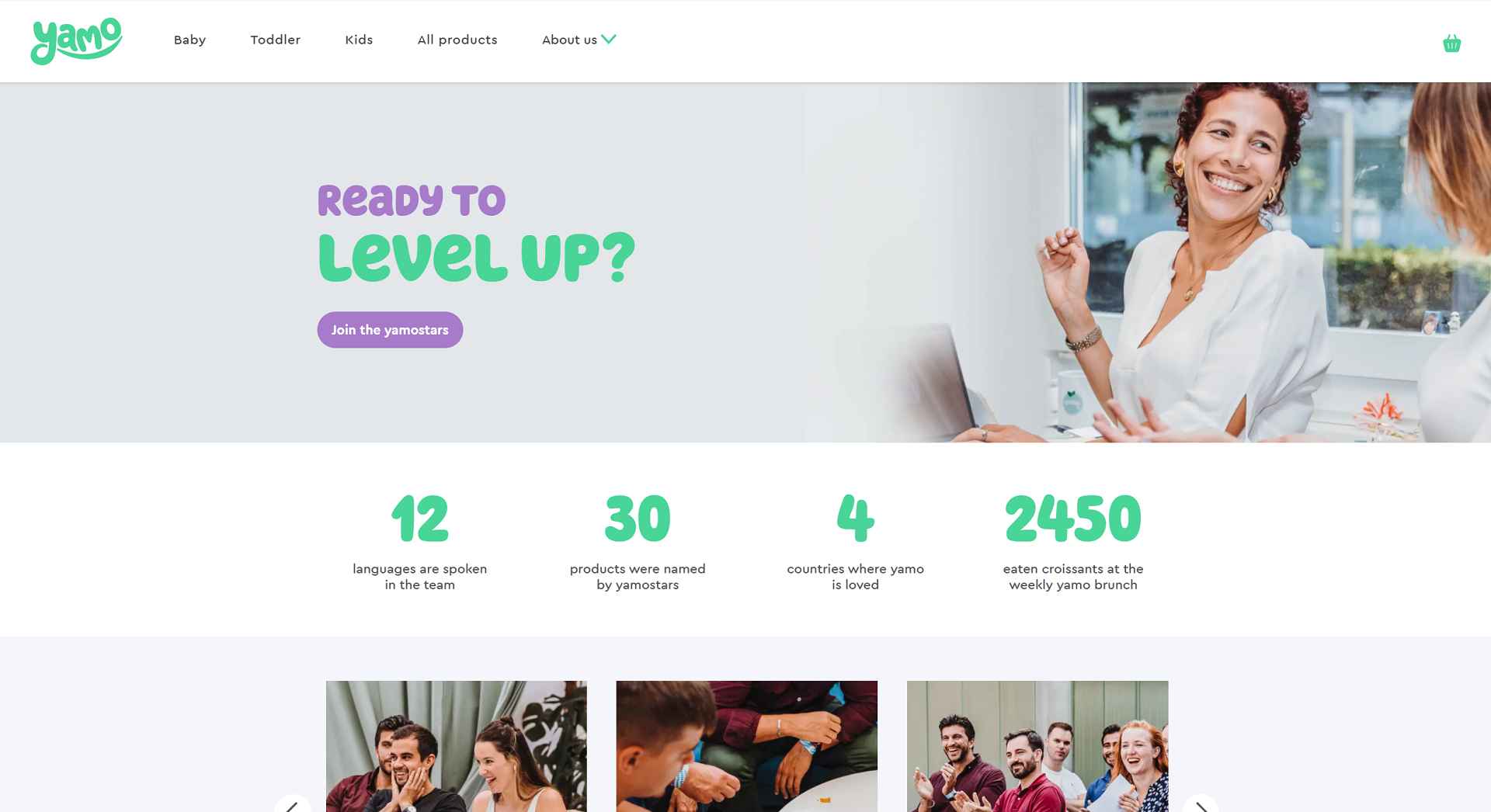 Yamo are a food start-up founded in 2016, with a focus on bringing organic, convenient baby and children's food to the market. They sell their products both on their own platform and through large-scale retail partners, such as Coop and REWE.
What we love about the Yamo career page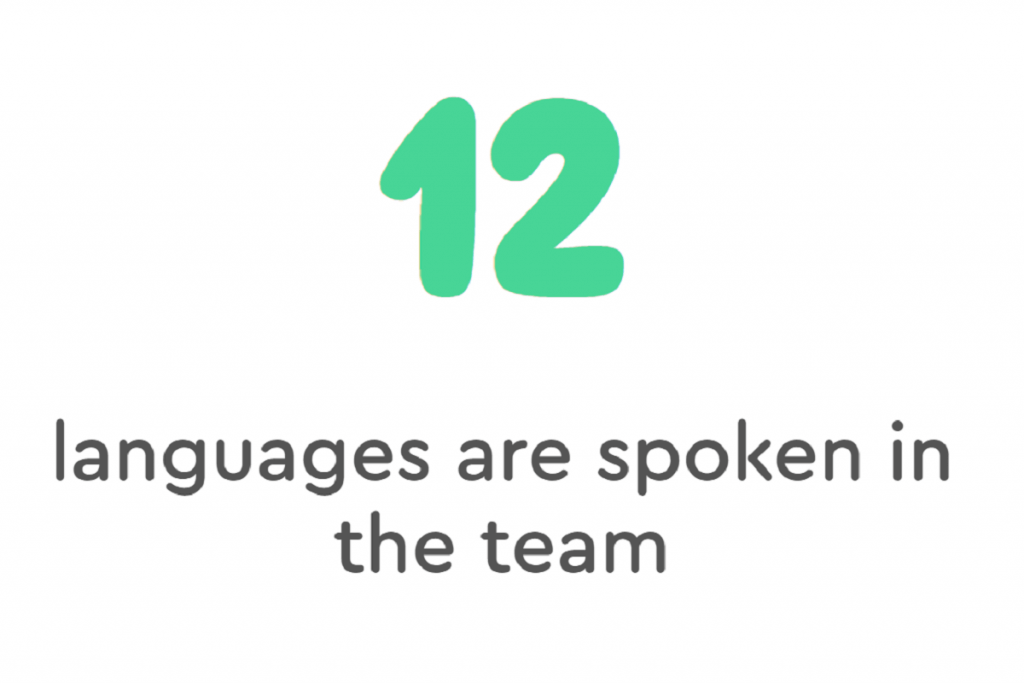 Yamo's career page combines high-quality, attractive imagery with short, snappy statements to help build an exciting career page. They discuss their ways of working and benefits in a way that encourages candidates to join the 'yamostars'! The feature that really takes Yamo's page to the next level is their focus on diversity and inclusion, by mentioning different languages.
Further stand out points from the Yamo career page:
• Emotive language such as 'what awaits you' encourages the reader to imagine their career as part of the Yamo team.
• Professionally taken team photos (both candid and intentionally posed) help put a face to the Yamo name and give you an idea of what to expect from the team.
• An animated statistic section livens the page up and makes the brand stand out from the crowd.
• The nickname 'yamostars' gives the team a family feel and is a great technique for employer branding.
• Including a quick fact on how many languages are spoken at Yamo is another great technique for highlighting diversity and improving a diversity recruitment strategy.
View all openings at Yamo here.
Up-to-date open positions with the JOIN job widget
As you may have noticed, the above career pages all use the handy JOIN job widget! And, if we do say so ourselves, this is another factor that helps to make them great.
The JOIN job widget ensures that the open roles within the company are always up-to-date and easily filterable.
Candidates can use the widget on these career pages to sort the open roles by department or location, meaning they don't have to waste time sorting through roles not relevant to them. The widget also automatically updates whenever a job role is edited, removed, or added within JOIN itself, meaning the career page is never out of date.
The best part? It's free, meaning you can easily integrate it into your own career page
Building your own career page
Feeling inspired by the fantastic career pages above? Want to build or improve your own career page? You're in luck!
Our informative article on career pages will give you all the information you need on why a career page is extremely important in any business, and what it takes to create a great one!