Let's face it. The recruitment landscape is tough on hiring managers right now. Competition for the best qualified candidates is high and top talent expects your recruitment process to be fast and efficient, or they'll move over to the next company.
To attract high quality candidates, your process needs to be well-structured, convenient for the candidates, but above all, it has to be superfast. Just posting your job to one or two of the best job boards isn't enough any more.
Recruiters in 2023 will need a solid recruiting funnel and a knack for tracking the right recruitment metrics – like these 7 essential talent acquisition metrics – to secure the best talent.
The recruitment KPIs (key performance indicators) mentioned above make it clear where your hiring process may be slowing you down and what needs to be improved.
So that you can approach your recruiting even more effectively, we'll present the most important recruiting KPIs for 2023 below and explain why you should keep an eye on them.
Why key performance indicators (KPIs) matter for your recruiting efforts
Your KPIs are vital to any recruiting efforts because they provide valuable insights into the effectiveness and efficiency of different parts of your recruitment process.
Understanding and leveraging KPIs can lead to significant improvements in the way an organisation recruits, leading to better hires, reduced costs, and more efficient processes.
What are KPIs in recruitment?
In recruitment, KPIs are specific metrics used to evaluate the effectiveness and efficiency of the hiring process. They can include measures like time-to-fill, cost per hire, candidate net promoter score (NPS), and source of hire, among others (we list many more below).
KPIs provide valuable data-driven insights that can guide strategic decision-making as they show you whether your recruitment process is performing as you want. Essentially, they're the yardstick by which you can measure your recruitment success.
Top benefits of tracking critical KPIs
Here are some of the top benefits of tracking your recruiting performance with the right KPIs:
Speeding things up: KPIs help determine if you're hiring fast enough. By looking at your time-to-fill and time-to-hire, for example, we can spot any bottlenecks and work out how to speed up the process. It's like a health check for our hiring system!
Getting the right folks on board: With KPIs, you can check if you're actually hiring the right people. By looking at things like first-year attrition rates and performance scores, you can tweak your recruitment process to make sure you're bagging the best candidates for your team.
Keeping an eye on the pennies: KPIs help you understand if you're overspending on hiring. You can calculate your cost-per-hire, including advertising costs, recruitment fees, and even the time you spend on hiring. If you're spending too much, it's a sign you need to adjust your approach.
Planning for the future: By watching trends in your KPIs, you can predict future recruitment needs. It's a bit like having a crystal ball! If you see you're getting great hires from certain sources (like specific niche job boards), you can focus more on those. On the other hand, if some sources aren't giving you a good return on investment, you can cut back.
Always improving: Keeping an eye on your KPIs helps you get better all the time. They give you a benchmark to measure your progress against and help you see if the changes you've made are actually helping.
In a nutshell, KPIs are like your recruitment compass. They keep you on the right track, help you improve, and save money. They show you what's working and what isn't, making your recruitment efforts smarter and more effective.
Our top 5 most important recruitment KPIs for 2023
Before we start, a quick note: There are many different recruiting KPIs, but not all are equally useful for every company.
Which KPIs are "the right ones" for you depends on many different factors, such as your goals and needs, but also the size and industry of your company. However, there are a few recruiting KPIs everyone should be looking at to put their talent acquisition to the test.
Do you want to learn more about the other top recruiting metrics and KPIs?
Then keep scrolling after our top 5 to find a list of 10 additional key metrics and critical KPIs!
1. Time to hire
First things first: time. The time to hire measures the time that elapses between the publication of a job advertisement and the hiring of the best candidate. It is, therefore, one of the most important recruiting indicators for 2023.
A low score indicates that your company hires talent quickly and successfully. On the other hand, a high score indicates that your hiring process is taking too long, so you're likely losing valuable talent to the competition.
"But what is the maximum number of days I can need?" you may ask. Our Head of HR, Dennis Wegener, has the answer for you:

You can find more information and sample calculations for time to hire, as well as useful tips and measures for optimisation, in our glossary article.
Find out more about time to hire
2. Cost per hire
Another one of the must-track recruitment KPIs is, of course, costs. Recruiting is still a question of budget, often leading to a lack of applications or wrong hires. But this can be prevented!
The cost per hire, as the second most important recruiting KPI 2023, helps your recruiting to be more cost-efficient by providing a closer look at the average costs per newly hired employee.
A low cost-per-hire score indicates that your company manages its recruiting expenses relatively effectively. Nevertheless, there may be room for improvement. For example, if you invest parts of your budget in places that do not give you the right results (more on this below).
In our glossary article, we explain how you can calculate the cost per hire, make even better use of your budget and reduce your hiring costs.
Find out more about cost per hire
However, just keeping an eye on time and costs is not enough when it comes to the effectiveness of your hiring process. Even if you work fast and have your budget under control, it does not mean that you will receive applications. So on to the next KPI:
3. Candidate conversion rate
Candidate conversion rate is another particularly important recruiting KPI for 2023 as it gives you an insight into how successful your company is at converting qualified talent first into applicants and ultimately into actual employees.
The first important sticking point is the job advertisement. If this is vaguely formulated or if important information is missing, there is often no feedback at this point – or the wrong applicants get in touch.
How to write a good job advert that attracts great talent in 2023
A great job advertisement makes every other recruitment step that little bit easier.
Read guide
Free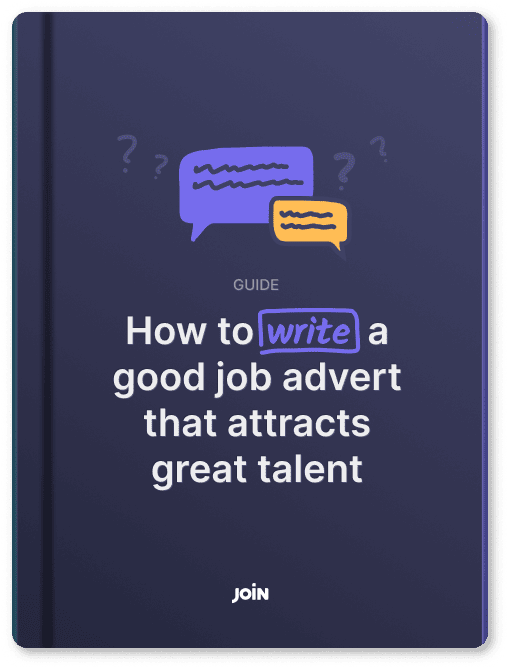 A high candidate conversion rate means your company successfully approaches potential applicants, convincing them to apply, attend interviews, and later accept the job offer.
On the other hand, if you're noticing a low conversion rate — no matter at what stage of your hiring process — it's time to take a good look at your candidate experience. Particularly, how is your candidate satisfaction rate holding up? And how may this affect the offer acceptance rate, for example?
In our glossary article, we explain how to calculate the candidate conversion rate and what measures you can take to improve it.
Find out more about the candidate conversion rate
4. Channel effectiveness
Choosing the right recruiting channels is often another important sticking point in talent acquisition. A bit of trying out is normal here, but if you unknowingly use the wrong channels for a long time, this can unnecessarily slow down your entire recruiting process.
Channel effectiveness tells you where you can best reach your target audience and get the best response. It clarifies the effectiveness of the various recruiting channels you use. These include job boards, your careers page and social media.
A high channel effectiveness on a specific channel, like a niche job site, means, for example, that this is well suited for your company to address qualified applicants.
On the other hand, low values ​​indicate that this is less suitable (e.g. because your target group is not represented there) and that you are better off investing your resources elsewhere to optimise your recruiting strategy and get your job postings in front of the right, qualified candidate.
Want to know more about this recruitment KPI? You can find out how to understand channel effectiveness and apply it to your recruiting process in our glossary article:
Find out more about channel effectiveness
5. Quality of hire
Are you already generating enough applications? That's great, but it can still be worth looking under the hood if you want to improve the quality of your applicants. Every new team member that ultimately turns out to be the wrong person causes high costs again.
To address this problem, the quality of hire can be used as an important recruiting KPI for 2023. It provides insights into the performance of new hires and enables a comparison with the expectations that the company has of them.
A high quality of hire shows you that the hired employees are well aligned with the requirements and goals of the company and have a positive effect on the performance and growth of the company.
A low quality of hire, on the other hand, must be understood in such a way that you are not yet optimally reaching your target audience and should reconsider your recruiting strategy.
Further information on the evaluation and interpretation of the quality of hire and a relevant calculation example can be found in our glossary article.
Find out more about the quality of hire
10 additional recruitment KPIs to better track your recruitment process
Here is a list of 10 extra recruitment KPIs worth tracking, all with explanations of what they are and how to track them for your business. From hiring manager satisfaction to employee turnover, all these metrics will help you level up your recruitment efforts:
How to further improve the performance of your recruitment strategy
Now that you know the most important recruitment KPIs for 2023, you probably want to get started right away. Good news: JOIN can help you get started using some of the KPIs above.
With the help of our innovative, free talent acquisition software, you get data-based suggestions as to which job boards work for your target group so that your budget is used in the best possible way.
The application process will also be quick and easy for your candidates: Our customisable application form only asks for the most relevant data before the application is conveniently submitted at the touch of a button.
All incoming applications are then collected in the integrated applicant tracking system (ATS) – centrally and including source information, which enables you to use time-saving and more effective applicant management. It's how one of our 60,000+ clients, Merantix, reduced time to hire by 30% and its cost per hire by 25%.
Try JOIN for yourself, it's free: