So, we wanted to use our extensive access to job posting data to give you a review of the hiring scene in 2022. In the below article, we'll provide you with expert insights on how companies have been using JOIN to hire.
We'll look into which industries saw the most growth and which job categories were in the highest demand. This means you, as a hiring manager or recruiter, can more clearly understand the demands in your industry and which types of roles you'll have competition with.
As well as this, we'll look into why these demands might be occurring and what you can do about it.
What hiring data did we use?
We analysed our internal data using jobs posted with JOIN between January and June 2022. The main factor we took into consideration was the category the company posting the role belongs to was posted to, which allowed us to get a clear picture of the hiring trends seen in the first half of 2022.
The majority of roles (around 80%) we analysed were posted in Germany, but roles are included from all over Europe.
What hiring trends did we find?
From our data, we were able to assess which industries were looking to grow most rapidly in 2022.
The results were the following: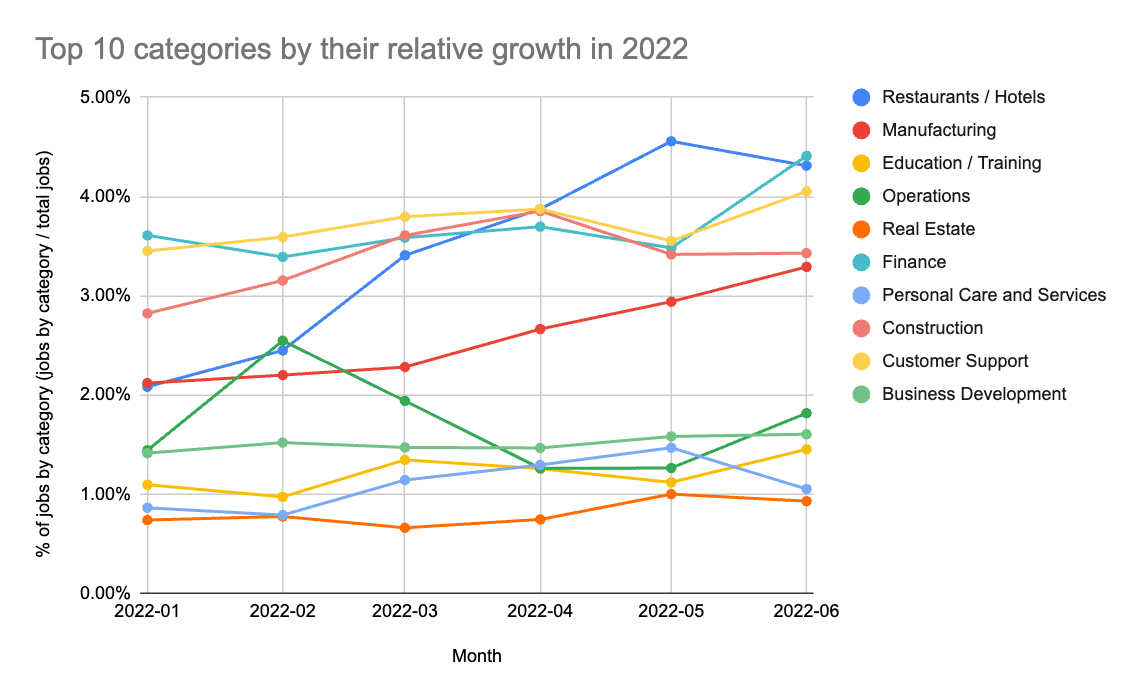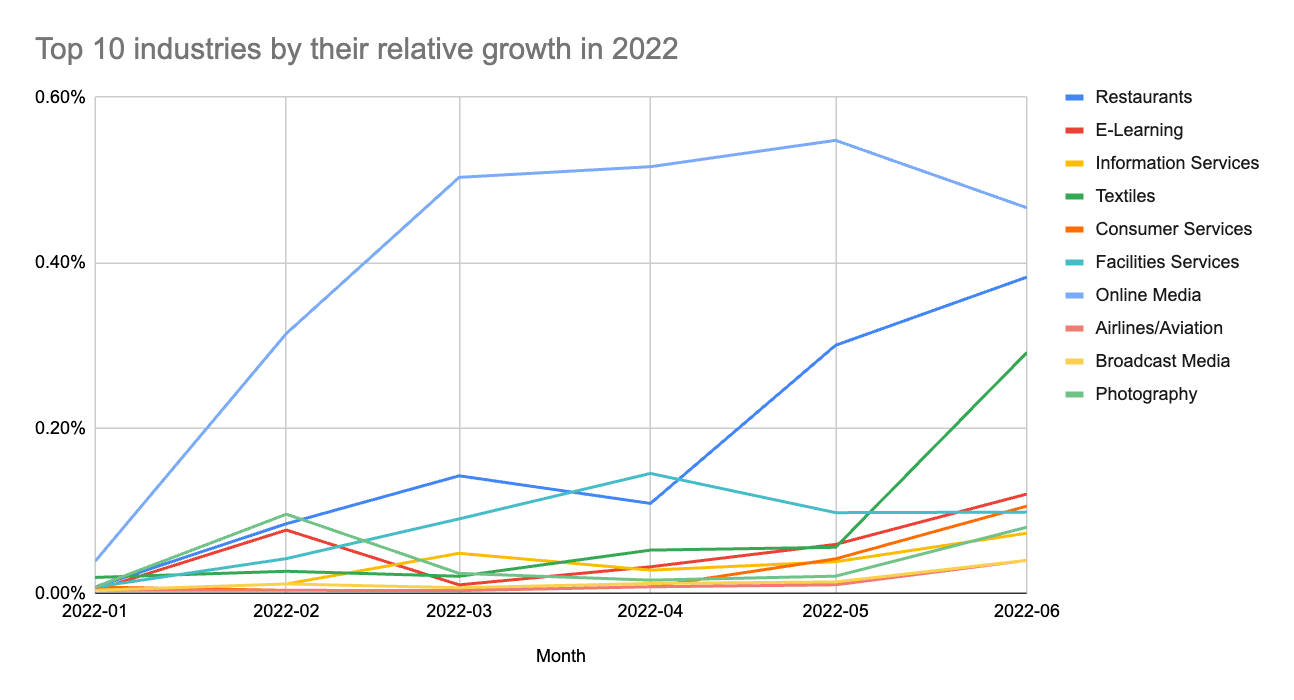 These charts compare the relative growth in the number of jobs by category, industry, and country, as a percentage of the total number of jobs posted during the month.
This means, for example, if in a particular month the number of jobs created in the category "Finance" was 50, and the total jobs posted to JOIN for that month is 500, then the % of jobs by category for Finance would be 10% (50/500).
The "% growth from January to June" is the % of jobs by category for June, divided by the number for January. For the previous example, if the % of jobs for finance was 10% in January and 15% in June, the % growth would be 150% (15/10).
So what does this data tell us about trends in hiring? Let's start by looking at the top 3 industries that saw the most significant change.
1. Restaurants and hotels
Restaurants and hotels saw the most dramatic category growth. The hospitality industry was one of the worst hit by the pandemic, with huge numbers of hotel and restaurant staff losing their jobs due to business closures and lockdowns.
Now, with much more lenient restrictions in place across Europe, the hospitality industry is facing a labour shortage as it tries to keep up with the demands of a public making up for lost time. This can be seen in the upwards trend in hiring in the hospitality industry over the first half of 2022.
As restrictions eased off, more and more job postings for waiting staff and other hospitality hires were posted using JOIN.
Want an even more detailed look into JOIN abd it's premium benefits?
Check out our customer success story with Radisson Blu
Read now
2. Manufacturing and textiles
Another category and industry to see an improved hiring trend throughout the first half of 2022 was manufacturing and textiles.
This growth may be because manufacturing further afield became increasingly difficult due to extended lockdowns in parts of Asia, as seen in China and Bangladesh. This, along with further supply chain problems globally, may have pushed European companies to begin working with manufacturing companies and factories closer to home.
Pair this with an increased focus on sustainability in European companies like Zalando, and we can expect this hiring trend to continue.
3. Aviation companies
Much like hotels and restaurants, aviation staff faced mass redundancies during the pandemic. So, when it was announced that international travel restrictions were to be lifted by Germany in June, and in other European countries around the same time, it is no surprise that aviation companies began hiring in order to prepare for this.
With the travel industry continuing to grow in late 2022, this hiring trend is expected to continue, as long as international travel remains viable.
Hiring trends beyond 2022
These hiring trends show us that it's a highly competitive hiring market right now for many industries. And, with the unpredictability of the ongoing pandemic more turbulence may be seen in the industries we've mentioned above.
So, if you're looking for a new employee, you need to take extra measures to stand out from the crowd.
Luckily, with the right tools, you can help to stay ahead of the competition! Using an applicant tracking system (ATS) like JOIN allows you to automate your recruiting process and attract talent faster, and more efficiently, than your competitors. Try it today, and see what we can do for you.
Want more insights into the current recruitment climate? These articles can help:
Why JOIN?
Unlike other Applicant Tracking Systems, you can use JOIN and multipost your job ads across 10+ job boards for free
Try JOIN for free