It's also important for recruiters to know the scope of any tools they'll use in regard to HR and hiring to ensure they're using the right platform for their open positions. For example, with JOIN, recruiters can post job ads to niche posting sites, to better target potential candidates that work remotely, or specialise in a particular area.
So, who are our users? We sat down with our User Research team to find out.
Disclaimer: All the data below was gathered through surveys and questionnaires posed to our users and analysed by our User Research team. This is not a look into recruitment tools or candidate profiles in general.
Our findings
Knowing the main problems that candidates and recruiters have when applying to jobs and receiving applications makes it much easier for your organisation to stand out from the competition and get those higher quality applications rolling in.
While candidates were looking at jobs using JOIN, we asked them to take a short questionnaire that would give us a better picture of who those users are. The candidates that completed the survey were mainly English and German speakers, and more than 2,500 potential candidates took part in the survey.
Why is it important to understand users' demographics as a recruiter?
Candidate demographics are now one of the most important hiring metrics to consider, especially since the pandemic sparked the Great Resignation. Potential candidates are expecting more from their employers now than ever before.
A recent report from Glassdoor stated that 35% of hiring managers are looking to increase their diversity and inclusion efforts when it comes to hiring new team members.
Pushing for a more diverse talent pool will in turn improve the diversity of your hires.
Advantages of improving your diversity strategy:
Improves the strength of your employer branding
Heightened employee engagement
Increased creativity and innovation
Stronger team morale
If you're looking to educate your team on diversity and inclusion, or want to work on a strategy, we've put together an article with 13 steps to improving your diversity strategy.
Below are some findings from the survey posed to potential candidates using JOIN.
Age and gender
The most active segment for JOIN are users aged between 25–34, and there are about 5% more candidates that identify as male rather than female.
However, there could be a lot of fluctuation in this data, depending on a lot of different factors, which can change each time the survey is asked.
Seniority
Approximately 50% of JOIN users are in the early stages of their careers, or looking at junior positions. The other half are likely to be looking for more senior roles.
Luckily for recruiters, this means the talent pool that is using JOIN isn't too niche or specific.
Rate in applications
We learnt that the majority of candidates using JOIN are looking to apply for up to 5 open positions (65% of candidates), and around 1 in 10 candidates are interested in applying for more than 21 open positions.
That means it's extremely important to be able to catch a potential candidate's attention as soon as possible to make sure it's your organisation receiving the best talent, and not your competition.
Later, we'll discuss how to improve the quality of applications you receive.
Patterns in applications
Interestingly, only about a third of candidates are ready to apply to jobs when browsing open positions. The majority of users still need to:
Adapt their CV
Write a cover letter
Research the company
Read through the career page

Keep in mind, though, that researching the company doesn't mean simply looking at the organisation's website. Researching a company more likely means:
Looking up employer reviews
Viewing all the company's social media sites
Asking current employees what their experience has been like (more likely in later stages of the hiring process)
Research the company's funding and investments to make sure the organisation is financially stable enough
As mentioned briefly above, a strong careers page is important, so we put together some examples of career pages we love and why.
Job Descriptions
One of the most interesting conclusions that we saw from this data set is the importance of writing strong job descriptions to improve application quality. As we touched on above, candidates are looking to trust a company and get a feel for their culture and work ethic before they will even consider beginning the interview process with them.
It appears, as a rule, that the majority of job descriptions are generic and bland. Candidates don't want to read about all the companies they're applying to if they don't sound exciting or interesting.
This is worth thinking about when writing your job descriptions, especially as we know that 77% of candidates using JOIN are actively applying for multiple jobs. Here are some further definitions of active candidates, and passive candidates.
The best way to improve your job ads is to write about the organisation in a unique way that's tailored to the position itself. For example, if you're looking to improve the diversity of the engineering team, then you may want to mention that in the description. This honesty and transparency will go a long way with people looking to join small or medium-sized businesses.
If a job description is written in a way that excites a potential candidate, it's more likely that those candidates will read the entire description and get a better understanding of the position they're applying to. This makes it easier for recruiters, as they will receive fewer applications that simply don't match the skill set needed at all.
Factors that deter candidates
Earlier, we spoke a bit about the steps candidates still needed to take in order to be able to apply for a job. But, are there any primary drivers for disinterest in commonly written job descriptions or job ads that make a candidate decide to not apply at all?
Mismatch of candidate skills to job requirements
Often, a candidate will decide to not apply to a job because they don't match the desired profile completely. If you're finding that you're not getting so many applications, it might be that your job description is too detailed.
Of course, sometimes the skills needed for the open role are non-negotiable, you simply need someone in the team that can use a specific software, or has a certain degree.
However, a lot of the time in small and medium businesses, teams work cross-functionally to achieve goals and skills are shared.
If the hiring manager is open to having more candidates to interview that don't completely match all the skills mentioned in the job description, then it's a great idea to add a note at the end of the description to encourage more people to send in their applications. Here's an example:
"Don't tick all the boxes, but still want to work with us? No worries! Send an application anyway, we're open to finding diverse skill sets and tailoring job roles."
No mention of salary
The biggest driver of disinterest when candidates look at a job ad is no mention of salary.
Potential candidates told us that if there's no mention of any salary range that they're much less likely to begin the application process. Changing this and adding a range to the job description will likely improve the number of applications received.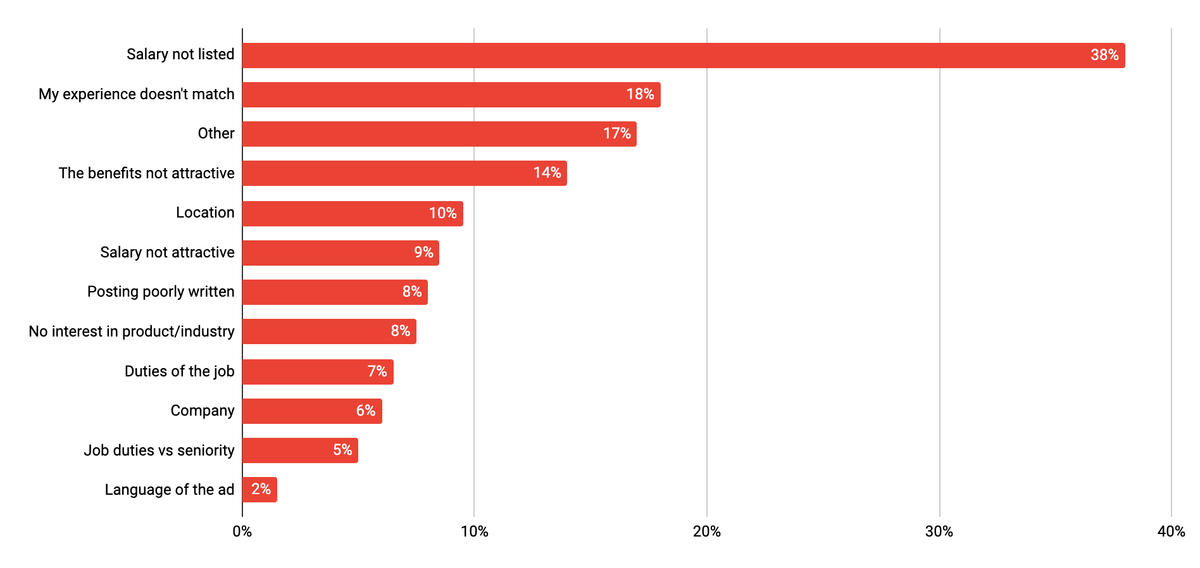 Of course, the problem that recruiters have these days is that more and more people want to work in either a hybrid setting, or fully remote, and salary is, the majority of the time, linked to region or country.
If this is the case, there are still some things recruiters can do to show potential candidates how transparent and aware you are as an organisation. For example, when hiring for remote positions, recruiters could add something like this sentence at the bottom of the job ad:
"It's important to us that you know a salary range, so you can better negotiate. However, because this position is remote, we can't give an accurate figure in this ad. To avoid any issues, we will discuss a range with each candidate based on their location."
If the position is not remote, then the best practice is to always include at least a salary range.
So, if you're struggling to find high quality candidates to fill positions in small and medium businesses, take a look at your job descriptions and work on making them a little more accessible. As well as this, try to at least mention a salary range, or be clear that you'll discuss it individually in each interview.
If you'd like to learn more about how JOIN can help you specifically, you can read up on five good reasons to use our Job Widget, or simply sign up to try for free!