With automated multiposting, companies can share their job ad to a variety of different job boards in just one click. This can really help improve an ad's reach, attract more great candidates, and save time. Multiposting should be part of every company's recruitment strategy.
However, there are some mistakes companies can make when multiposting that prevent it from working as well as it should. And with recruitment budgets stretched, companies want to know that they're getting value for their money.
What is multiposting?
Multiposting is when recruiters publish their job ad to multiple job boards at once with just one click. To do this, recruiters usually rely on a multiposting tool or software. This automatically posts their ad on multiple job boards, instead of having to manually post it to each one.
To learn more, check out our multiposting glossary page.
5 best practices for your multiposting strategy
How can you make multiposting part of your recruitment strategy? Read on to find out how you can make sure multiposting is meeting your company's recruitment needs!
1. Make sure your job ad is perfect
A common mistake is multiposting your job ad to various boards and later realising that the initial ad isn't right.
This can lead to a recruitment strategy underperforming. It also wastes time and effort as recruiters figure out where the problem is and then rewrite their job ad.
Therefore, it's a great idea to make sure your job ad is just right before you start multiposting by: 
Making sure your job description is focussed on the key points
Showcasing your benefits to help you stand out
Dividing your requirements into those that are essential and those that are nice to have
Luckily, JOIN can help you craft the perfect job ad and give your multiposting strategy the best chance of success. We've analysed 303,000 job ads to determine what works and what doesn't. Visit our guide on how to write the perfect job ad and give your recruitment strategy the perfect start.
2. Choose the right tool for your recruitment strategy
So now you've got your perfect job ad, it's time to start multiposting! But how? You'll want to choose a tool that makes multiposting easy, and it really pays to think long-term here, and make sure that the process you use for multiposting is scalable to your future needs, not just your current ones.
If you're expecting to get a lot more great applications, you're going to need talent acquisition software or an applicant tracking system (ATS) to quickly assess them, send rejections, and easily move candidates through the stages of your hiring process. At some point, you're also going to want to bring your colleagues into the process, sharing candidates for feedback and assigning tasks.
Does your multiposting tool offer these features? If you already use an ATS, does your multiposting tool offer easy integration with it?
JOIN takes the hassle out of your hiring process by letting you screen, manage, and engage candidates efficiently in one central place. Find out more about managing your candidates.
And if you already have a favourite HR tool, workflow app, or ATS, JOIN offers simple integration so you can relax knowing all your tools are working together efficiently. Learn all about our simple integrations.
Find out how multiposting helped Chimpy cost-effectively grow its international team!
3. Don't forget the candidate experience
Recruitment is like any other part of running a company – an increase in business doesn't really help you if you don't have the infrastructure in place to handle it. If you're getting ready to start multiposting your job ads, make sure you're ready to handle an increase in applications without compromising the candidate experience.
Candidates expect a smooth and swift application process, and if you take too long processing applications and getting back to them, you risk putting them off working with you, or losing them to other companies who act faster.
Multiposting with an ATS tool that enables you to communicate with all of your candidates in one place, rather than getting lost in email chains, will save you time and effort, and make sure you don't miss out on that perfect person. JOIN's new messages feature lets you do just that, all at no extra cost.
Make managing your candidates easy with JOIN's free ATS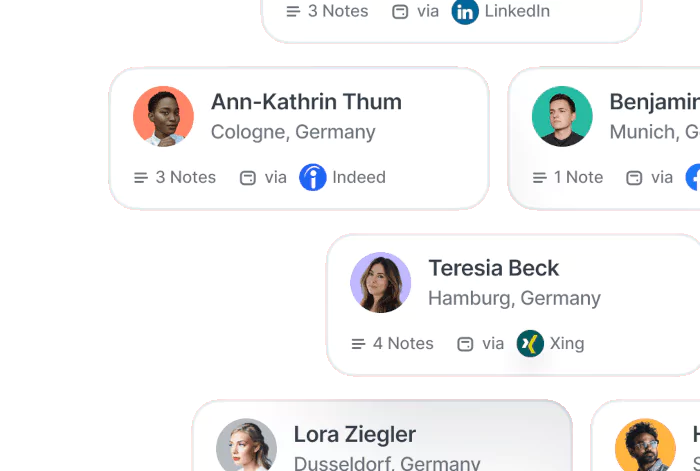 4. Target the right job boards for your recruitment strategy
Multiposting your job ad to several job boards will improve the reach of your job ad, and increase the number of great applications for you to consider. But if you really want to make multiposting part of your recruitment strategy, you should give some thought to which job boards you're posting to.
There are a lot of job boards out there that are particularly useful for certain industries or countries, and a smart multiposting strategy will make sure to use some of these. Niche job boards let you put your ad in front of a preselected audience of qualified candidates, and so can give you better value for your recruitment budget.
For more inspiration, check out our full list of the best job websites in 2023!
JOIN offers more than a hundred job boards for you to choose from. Does that sound overwhelming? Don't worry, we're here to help. In the JOIN store, you can filter job boards so we only show you the ones for your region. We can also tell you their target audience and reach, so you can make an informed decision.
We've also compiled bundles that group job boards together under a shared category ("Startups", "Healthcare", "IT", "Remote"), so you can quickly find the set of job boards that's perfect for you.
You can save even more time with our Smart Spend feature. Our hiring experts use performance data from thousands of premium job ads to set up a strategy that spends your budget where it will do the most. Save time and spend your budget efficiently.
Take a tour of the JOIN store now!
5. Analyse your recruitment strategy's results
If you've followed all of the above steps, you're well on your way to a winning recruitment strategy! However, to really get the most out of multiposting, you should always look to perfect your strategy, by analysing your results and making improvements.
Understanding which job boards work for you means you can save money by not posting to job boards that aren't getting you candidates, and get improved value for your recruitment budget.
With JOIN, it's easy to see how your job ads are performing. In the store's "Bookings" section, we can tell you for each product how many candidates have applied, and how many clicks have been generated. Use this data to see which products are working best for you, and perfect your multiposting strategy!
Multiposting can help you easily reach more great candidates and quickly find the perfect person for every job. And if you follow the above steps, you can be confident that you're making the most of multiposting, and taking your recruitment to the next level.