However, there is still a surprisingly wide gap between employers' and employees' ideas of what good benefits are. In this article, we tell you which corporate benefits today's skilled professionals really want and how you can pick out the "right" benefits for your company. Let's find out.
What makes good corporate benefits?
Various statistics and studies over the last five years have made it clear that employers often misjudge the popularity of the employee benefits they offer – mainly because they increasingly focus on their own benefits rather than those of the employees.
As a competitive advantage, however, these supposed benefits were soon no longer able to achieve success in the "war for talent". Many companies are therefore faced with the question of what would be suitable benefits.
To answer this question, however, it is first necessary to clarify what makes good employee benefits in the first place:
Truly good corporate benefits are not only important for employer branding but above all for establishing a stable relationship with employees and thus employee retention.
And as it's common in interpersonal relationships, meeting at eye level and mutual understanding are basic values. If benefits express recognition and appreciation, that is certainly nice. But it is much nicer and more motivating when employees feel understood and supported in their needs. "Added value" is the keyword here.
What are employee benefits with added value?
Really good employee benefits are those that offer employees added value appropriate to their lifestyle. To create added value, employers need to learn to understand the mindset of different generations of employees, especially those of the labour market-dominating Generations X (1965-1979), Y (1980-1995) and the upcoming Generation Z (1996-2010).
Because there is something that unites all three otherwise quite different generations: they do not want to work at the expense of their own health and/or have to sacrifice important family and leisure time under any circumstances.
In addition, the younger generations have the desire to do something meaningful, to contribute to something big and, at the same time, to be able to achieve self-fulfilment.
So, in order to generate employee benefits with added value and thus real perks at work, companies need to show that they are interested in and respect their employees' wants and needs.
And, of course, that they understand their employees' problems and want to proactively support them in overcoming them. Only those who can empathise with their employees equally well as with their marketing target groups can offer innovative solutions that really benefit employees.
10 corporate benefits your employees want
What are popular benefits for employees? Although company cars, company mobile phones, and good training and development opportunities are still very popular as corporate benefits, for some years now the focus has increasingly shifted to self-fulfilment and work-life balance.
We've collected 10 popular benefits for your employees here.
1. Truly flexible working hours
Structure and order in everyday work are undoubtedly important. But they are also important in daily life, and not every employee can function in the same way.
While some are especially productive in the morning, others only really get going at lunchtime or in the evening. However, many employers still set limits to flexible working hours by inputting core working hours, so that only a few hours are actually flexible.
The real benefit for employees – and the one occupying the first place on the 'employee benefit wish list' – is therefore offering truly flexible working hours (without core time). This allows employees to work within their most productive time of day, start a more relaxed approach, and achieve better work results. This means that this is an employee benefit example that works well for both the team and the business.
2. Home office and home office equipment
It was popular before, but especially since Corona, the home office option has actually become an absolutely essential benefit. And not just for parents, pet owners and commuters; working from home can help employees to make the most of the day and spend the time not required for travelling with their family & friends, dog or any hobby instead. This provides greater satisfaction and also expresses trust on the part of the employer, which is clearly lacking in most working relationships.
However, many employees do not have a proper, nor ergonomic, workstation at home and are thus more prone to back troubles or concentration issues – problems that can be effectively prevented with good office equipment. In this context, financial support and ergotherapeutic advice on setting up the home office ergonomically is correspondingly attractive as an employee benefit.
Find out more about this topic in our separate guide on supporting employees working from home.
3. Office dogs
Many long for animal company and often only don't have a four-legged friend because their job doesn't allow it. Employers who are open to dogs in the workplace are not only offering the third most popular benefit, they are also scoring points by possibly indirectly fulfilling a long-cherished dream for their employees.
Of course, this employee offer should be geared towards the well-being of the employees and a good upbringing of the animal should be a basic precondition. However, if there are no aversions, fears or allergies, a dog in the workplace can ensure harmony and satisfaction, prevent burnout and improve the working atmosphere.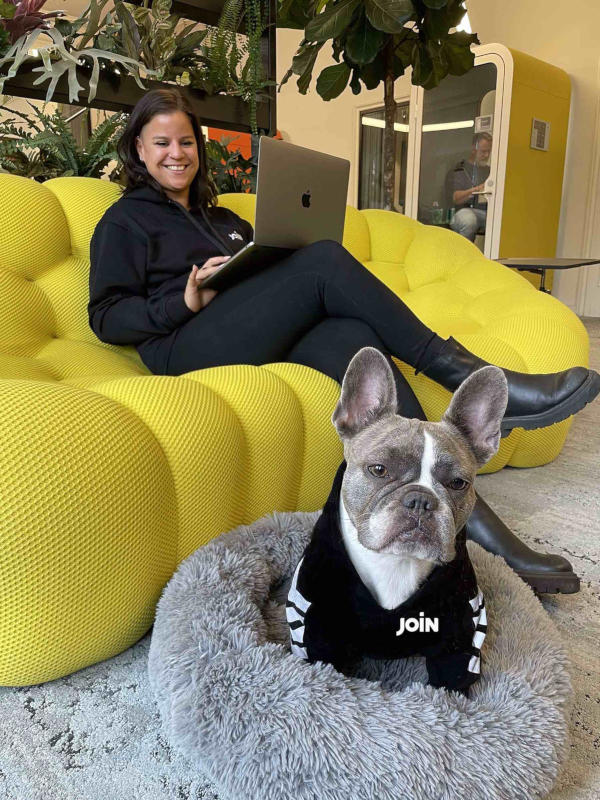 4. Sabbaticals
Sabbaticals are a particularly welcome employee benefit. In reference to the holy "Sabbath", which is considered an important day of rest in Jewish culture, the term "sabbatical" describes a one-year period an employee is sent on holiday. This time shall be used to concentrate on oneself and his or her personal life goals (starting a family, work and travel, self-discovery, personal growth, etc.). The employment relationship remains unaffected.
After a year, the employee returns with all new energy and then often outperforms themselves several more times. The crème de la crème is of course, a paid sabbatical, but other reasonable conditions can also be discussed and agreed upon in conversation with employees. What counts most is the gesture of sabbatical benefits.
5. "Paternity leave"
The time directly after the birth of a child is something very special, and the time together with the child is extremely important — not only for mothers but also for fathers.
Nevertheless, men are at a great disadvantage with regard to parental leave: By German law, for example, just one day of the special holiday is stipulated, just like for deaths and other "incidents" …
So it is no surprise that paternity leave is also increasingly in demand – and makes an employer who understands and supports the importance of this time together all the more attractive. Therefore, some companies have already started to grant new fathers significantly more time with mother and child as a corporate benefit.
Paternity benefits are also a great way to support mental health in your workplace, as allowing a father this special bonding time with their child is great for their emotional wellbeing.
6. Family Office
Earlier it was called "work or family", today it is called "family office" and is a separate office with noise protection and a sleeping and playing corner where children can play or sleep while mummy or daddy do their daily work.
This is not a solution for every day, but it makes everyday life much easier for working parents.
If primary school, daycare or babysitter unexpectedly drops out, there is no need to miss work. The result is convincing because those who do not have to choose between work and family are proven to be more motivated and relaxed when they go to work.
7. Napping-Room
What has become common practice in the USA, is frowned upon in Germany: sleeping at work. In most companies that support sleeping, this is done in the form of a 20-minute power nap in a quiet, withdrawn place. A short nap is proven to contribute to relaxation and regeneration and can increase performance by up to 35%.
So why not provide a bookable cosy napping room with couches, relaxing music and an automatic timer-controlled wake-up-call? It is far healthier and more relaxing than the fatigue-inducing one-second nap in front of the screen. Above all, it is another step towards work-life balance, which not only, but especially young parents will appreciate as a corporate benefit.
8. In-house fitness classes
Sport and fitness are an important part of a healthy lifestyle, and not just since Corona. However, not every employer is lucky enough to be able to offer a gym membership around the corner or even in the same building. Even if the closest gym is "not far away" and well-connected to transport: by the time you get there, have changed and warmed up, the break is all too often half over … if you get to it at all.
So instead of offering many employees a benefit that might not be used, how about fitness classes in your own premises?
Those who want to can directly get the necessary exercise without wasting a lot of time, which can then help them to concentrate better and be more productive, instead of being demotivated or even stressed by the loss of time.
9. Food subsidies and care packages
The awareness of healthy and balanced nutrition is growing steadily. Fruit, healthy snacks and popular drinks (good coffee, water, mate, organic soda, etc.) lay a good foundation. However, this alone is no longer enough to convince talent.
Time has come to bring your catering offer to a new level – with meal subsidies for lunch. Especially those who like it healthy have to dig a little deeper into their pockets for this, which usually quickly becomes noticeable in the wallet when eating out frequently. Meal subsidies as a corporate benefit are therefore rapidly gaining in popularity. And since healthy food also contributes to the performance of employees, ultimately you as the employer will also benefit from it.
And how about the employees who work remotely? They don't have to go home empty-handed either. Occasional care packages to the home office with healthy snacks and drinks are also a nice little and popular surprise.
10. Acknowledgement of multicultural and religious holidays
Especially in our globalised working world, it is important to act openly and respectfully towards foreign cultures and religions. An example: Christmas is one of the most important holidays of the year for Christianity and is firmly anchored in German culture.
But what about employees with Muslim, Jewish, Buddhist, Hindu or generally other religious and cultural affiliations?
Just because their festivals are not celebrated in Germany, this should not mean that they cannot celebrate them – or that they can only celebrate them to a limited extent because daily work has to be done on these important occasions.
Therefore, it is considered a correspondingly strong positive statement when companies use corporate benefits to communicate that the practice of religious and cultural festivities will not be affected by the new job.
Attracting talent with appropriate corporate benefits
We could continue the list of popular corporate benefits much longer, but the list already clearly shows: it does not necessarily need to be a company car (still high on the wish list!) or a corporate bike, expensive team events, and so on. Also, small gestures come into question as a corporate benefit — and are often valued much higher by employees.
After all, a benefit is supposed to be a distinct advantage in doing one's job. So what could be more advantageous than a clear "YES" to diverse lifestyles and daily rhythms, wishes and needs and the opportunity to fulfil them?
All that remains is to find the right benefits. Here are some tips on choosing the best benefits for your company.
Tip 1: Choose corporate benefits that match the size and culture of your company
Many employee benefits are only really worthwhile once companies have reached a certain size – and are often only affordable after that. Being at the beginning of a company (start-up) should however not mean that there are no benefits for employees. In fact, especially at the beginning, when everyone is working hard and overtime is the daily routine, it is particularly important to support the health and motivation of your employees. Offers that enable a better work-life balance and improve living standards are therefore generally popular and a good choice.
In addition to feasibility, attention should also be paid to the conformity of employee benefits with the company culture. The benefits companies offer to attract talent say a lot about the prevailing working culture and thus strongly influence employer branding.
Combinations such as performance-based bonuses and free drinks/snacks can quickly give the impression of a "carrot and stick" culture. Family-oriented benefits on the contrary, reveal a certain conservatism (value stability in a positive sense), and multicultural holidays reveal an internationality characterised by respect. With this in mind, keep your eyes open when choosing benefits!
Tip 2: Select corporate benefits together with your employees
Are you still in the process of setting up a team or looking for appropriate benefits?
If you already have employees on board, you should definitely include them in making the decision on benefits to be offered. On the one hand, this is a sign of appreciation, because after all, without their support your company would probably not yet be where it is now. On the other hand, you can also make sure that you offer really in-demand benefits.
One of the best ways to find out what benefits your employees actually want is to speak to them, after all!
Tip 3: Offer individual employee benefits, too
What is the use of a company car with a parking lot for an employee without a driving licence? And what if an employee in a dog-friendly office literally can't smell the animals? For this reason, it is not only important to select employee benefits together as a team but also to diversify the offer so that everyone can enjoy attractive and appropriate benefits.
A commuter, for example, will be happy about more home office days and subsidies for his ticket – or, if he/she wants to get a driving licence, about time support by granting early leaving times. If the employee lives closer to the workplace and attaches importance to environmental friendliness, a corporate bike with parking space could also be a great alternative.
And how about the one who cannot stand pets in the workplace? Perhaps it is possible to divide the office spatially in such a way that there are also strictly dog-free zones — especially meeting rooms, kitchens, restrooms and bathrooms should be included anyway for sanitary reasons. These are just a few examples, but one thing becomes crystal clear: Only really well-thought-out benefits with practicable individual variation options make employees really happy at the end of the day.
Tip 4: Choose your own employee benefits!
While having conversations with your employees and trying to figure out an action plan that works for everyone is ideal. In some cases, finding an answer could take months. This is why here at JOIN, we let employees pick their own benefits. Within reason, of course.
Solutions such as Benefitsy will give employees the opportunity to pick from a selection of health, knowledge, and entertainment benefits using a pre-paid plan that the company provides. This means that employees are in charge of their own benefits, and is something we've found everyone is happy with here at JOIN!

Of course, it is still worth running this idea past the employees to make sure a benefits solution is something your team are excited about, too.
Benefits reflect the values of your company
Choosing the right employee benefits is a difficult task, because they should not only be attractive and above all affordable, but also reflect the values of your company. The most important thing, however, is: they should meet the demands and wishes of the employees as closely as possible, give them a feeling of appreciation and trust, and continue to motivate them to work well.
Corporate benefits do not necessarily have to be material advantages; in fact, family friendliness, convenient fitness and lifestyle offers and other solutions that better reconcile private life and work (work-life balance) are considered particularly attractive. If the right corporate benefits are found and accepted well, employees and companies benefit equally. And this in turn helps improve team-building and your company culture.
On our Recruiting & HR Blog you will find even more articles on these topics. A very current topic, for example, is the implementation of other work models. Read the pros and cons of the 4-day week here.