If your recruitment process is still stuck in the past, keeping up with competitors is going to be near-impossible. Therefore, if you've not already done it, it's high time you looked into automating your recruitment process and tips and hacks for using an Applicant Tracking System (ATS).
And even if you've already set up and started to use your ATS, you might be looking to step your tracking system up to the next level. How can you do this? Well, we've got some ATS tips and tricks up our sleeves that will have you attracting and hiring top talent in no time at all. 
So, just follow this recruitment software advice and enjoy improved recruitment!
Make managing your candidates easy with JOIN's free ATS
1. Don't overpay for your recruitment toolkit (or don't pay at all!)
Firstly, if you've signed up for an ATS, or any other recruitment tool, and you find it's taking up too much of your budget, you may have made the wrong choice in software.
Sure, for larger companies, money may be no object when it comes to the tools they use. But, hugely expensive recruitment software can quickly haemorrhage budget for smaller businesses, and leave little funds for further needs, such as employee experience improvements or hard skills training. 
Therefore, one of the most important ATS hacks to take advantage of, is keeping your recruitment tool within budget.
Need a pointer? Well, JOIN is created with smaller businesses in mind. You can try JOIN for free and post up to three job ads across some of the biggest job boards around, perfect for teams just starting to grow. Then, you can track your applicants from these boards for free!

And, if you've got a budget to spare, you can enter it into JOIN and disperse it between the boards, social media platforms, and other premium features, while easily ensuring you never go over budget.
2. Customise your candidate pipeline
One massive ATS hack is to customise your candidate pipeline. While most ATS tools will have a preset pipeline, and this may work for some businesses, most companies will have a hiring pipeline that's unique to them.
Using an ATS pipeline that doesn't match your business requirements means you might move candidates into the wrong stages, lose talented applicants, and cause confusion. Along with this, it means you have to spend more time considering which stages fit your company's process.
Therefore, finding an ATS tool which allows you to customise your pipeline allows you to view your talent in a way that works for you.
JOIN, for example, allows you to add, remove, and rename stages of the pipeline. Along with this, you can easily drag and drop candidates from each stage as the recruitment process moves along.
3. Keep candidate communication all in one place
If you're multiposting your job ads to multiple different job boards (which you should be doing, for maximum applications), then chances are you've got applicants coming in from different places. 
For the first two or three applications, this isn't too much of a problem. But, once you start emailing five or six applicants at once, things can get more difficult to track. Having that many email chains on the go at once makes it easy for good talent to slip through the cracks, times and dates to get mixed up, and other easily-avoidable mistakes to happen. 
So, one of the best recruitment software tips we can recommend is to get an ATS that allows communication inside the software. This means all information about a candidate, including where they applied from, their application documents, and all communication with them.
A tool like JOIN allows communication with multiple candidates within the application, at no extra cost.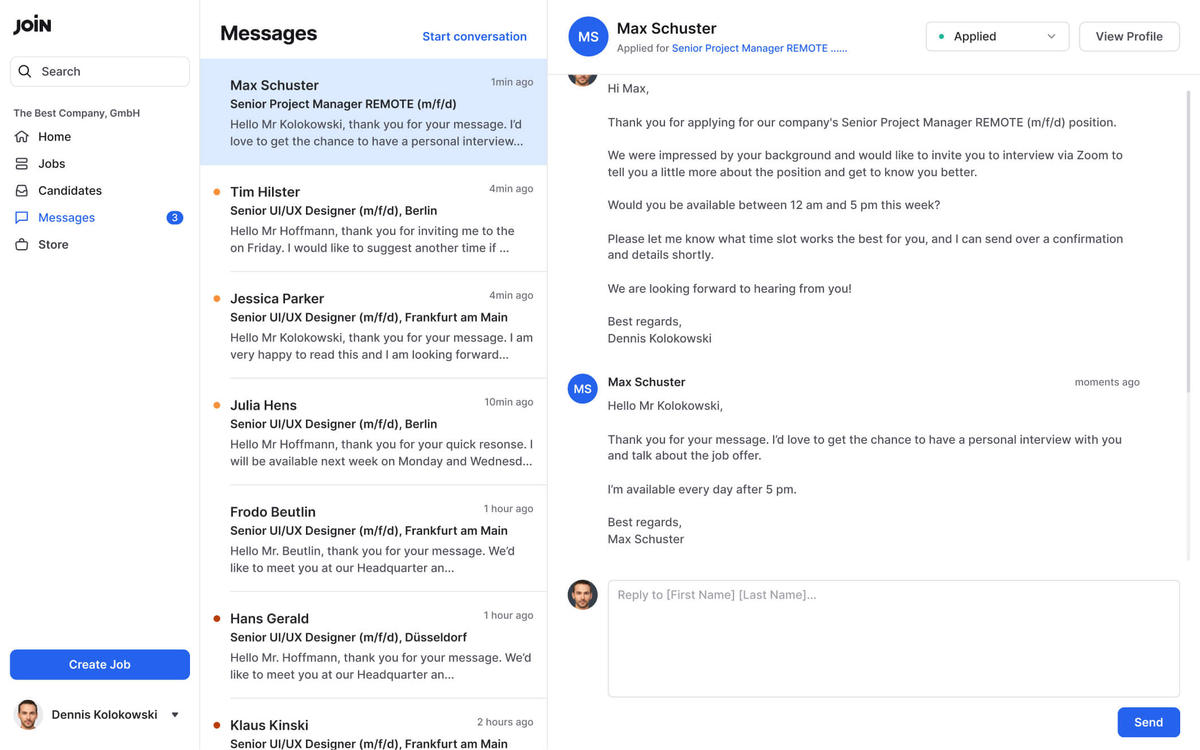 4. Get a collaborative tool
Logging in and out of different applications with different passwords so that your colleagues can see where the recruitment process is up to can really slow things down. 
Therefore, one of the most helpful ATS tips we can offer is to get software that's simple and collaborative. A prime example of how much this can help comes from one of our own clients here at JOIN.

We spoke to Marlene, the people and culture lead at Avocargo, who mentioned:

"In the past, I've had to work with multiple tools with multiple accounts and passwords. It takes up a lot of time and energy!" – Marlene
Instead, choose a tool where your whole team can collaborate at once. This will mean that your teammates can enter the ATS, see where processes are up to, and be up to speed in no time. This is great news, especially if one of your team members has a vacation planned as any handovers will be much simpler.
Find out more here about how JOIN improves collaboration for Avocargo.
More ways to make recruitment easier
If you found these tips useful, and now you're thirsty for more information on how you can speed up your recruitment processes, then we've got just the thing for you. The following articles will give you all the ideas you need to attract talent, quickly: