This often means changing your job ads up a bit. You'll need to consider things like language requirements, visa sponsorship, benefits for international employees, and more.
We've covered the basics of global recruitment and how to attract international talent before. But, it can often be helpful to see this type of global talent acquisition in action. So, to help you write better job ads which attract international talent, we've put together this list of 5 job ads that get global talent acquisition right.
Let's go!
JustRocket – Mentioning an existing diverse team
JustRocket help to build, improve, and develop digital products that help companies to expand and grow. They also help to put together tech teams, streamline processes, and improve tools and technology used within a business.
What do JustRocket do right with their global talent acquisition?
JustRocket include a lot of information, perks, and features that will certainly help to attract global talent. Including:
Mentioning the number of nationalities in the JustRocket team
JustRocket mention in their advertisement that they are a "young and ambitious team with members from over 8 countries". Including a stat like this helps potential international applicants feel comfortable and welcomed in an already diverse team. 
Talking about guidance during the onboarding
The company mention one of their benefits being "guidance while onboarding". This will help to comfort international applicants, as they know that they will receive a thorough and personalised onboarding, helping them to adjust to life within the team, culture, and company.
Consistently reinforcing the virtual aspect
Showing their commitment to allowing employees from further away from the business location to apply, JustRocket ensure to mention their virtual and remote options several times within their ad. This includes stating "possibility to work remote (we will empower a flexible hybrid mode forever)" within their benefits and backing this up with "looking forward to meeting you for a (virtual) coffee or tea ☕️". 
This gives international applicants confidence that they can apply, take part in the interview process, and perform the role from a distance.
Mentioning working language
JustRocket ensure to mention that they are looking for someone with "excellent English in spoken and written form". This helps to eliminate any confusion about the companies working language, which could be the push applicants from outside of the company's location in Romania may need.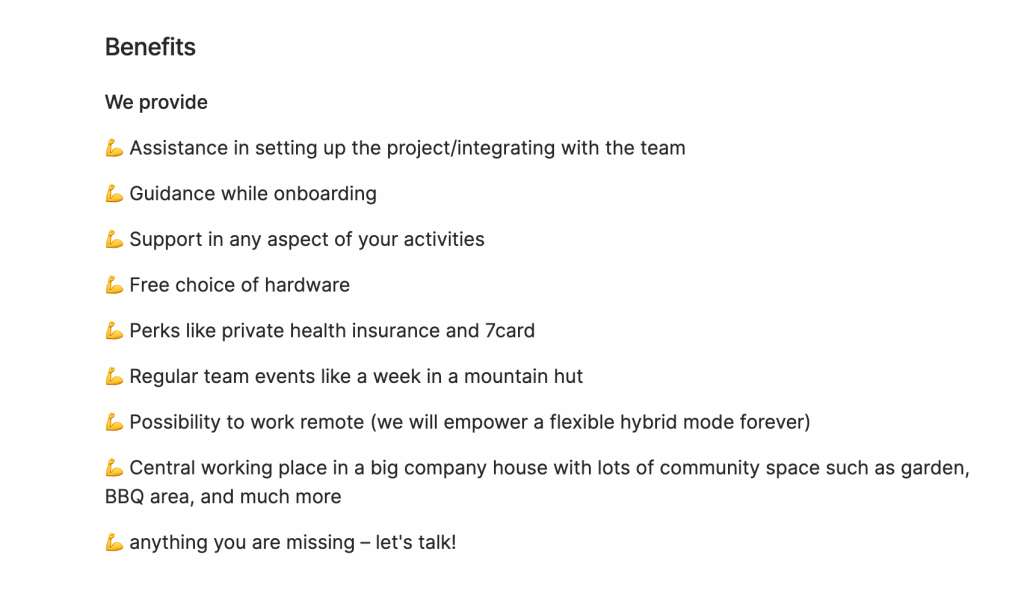 See all jobs at JustRocket, here.
UBirch – Financial support for international applicants
UBirch are cybersecurity experts who provide a cloud-based 'Proof Machine' which enables stakeholders to verify that any data received is authentic. 
What do UBirch do right with their global talent acquisition?
UBirch have written an advertisement that provides peace of mind and confidence to international applicants through a variety of actions, all reinforced within their advertisement.
Providing a relocation budget
In their advertisement, UBirch mention providing "financial and organisational help to relocate". Giving a relocation budget, as well as assistance with organisational and bureaucratical aspects helps international talent understand that they are not only welcome to apply, but also encouraged and supported!
Including a diversity policy
The UBirch advertisement ends with the disclaimer that "we are excited to meet each person which meets these requirements gender, religion, nationality, etc. does not matter". This helps to encourage candidates of different backgrounds, as they know that this is a company which will consider them based on their skill, regardless.
Mentioning multiple offices 
UBirch mention having offices in "Berlin, Cologne and Munich" within their job advertisement. While this is sure to attract candidates from all over Germany, it also may provide extra incentive to international candidates who are looking to relocate to Germany, as it will give them more freedom in their choice.

View all open positions at UBirch, here.
Imago – Honest language requirements
Imago are a media agency who provide images, videos, and other media types to different news outlets, sports brands, and more. They are a fast-growing company based in Berlin.

What do Imago do right with their global talent acquisition?
Imago do a great job of mentioning their preference for a candidate, without discouraging any other international talent. This is apparent in a couple of features across their job ad.
Mentioning language requirements
Imago mention in their job advertisement that "Fluency in English" is a requirement. As mentioned before, this is encouraging for international applicants, as it will give them the knowledge that while Imago are based in Germany, their working language is English. 
Imago go on to mention that German language skills are optional, but are a big plus. This shows that candidates without German skills are still welcome to apply.
Giving working options as hybrid or remote
One of the main sources of encouragement to global talent is the option to work "fully remote, hybrid, or in the office, depending on your situation". Here, potential international candidates can see that they will be supported in working from outside of the company's location, opening more doors to talent from afar.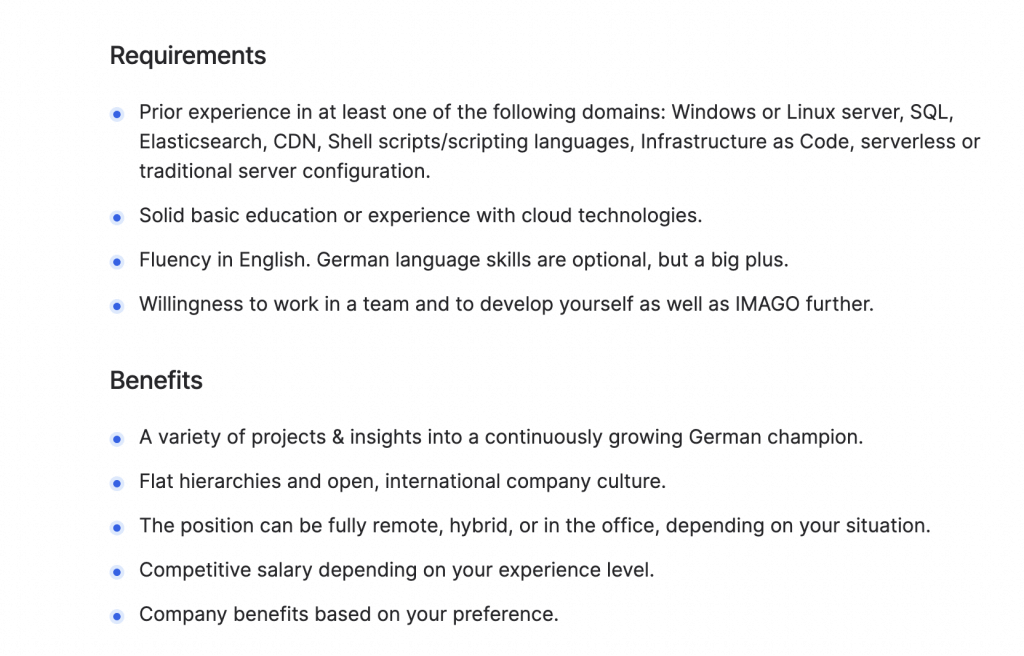 View all open positions at Imago, here.
Ergotopia – Future internationalisation plans
Ergotopia provides specially crafted, health-conscious office furniture to companies, so that they can help to ensure their workers aren't increasing their chances of office-related ailments such as back and neck pain.
What do Ergotopia do right with their global talent acquisition?
Ergotopia do a great job at encouraging international applicants who may not feel as though they are skilled enough to apply, to do just that. They also mention future plans, which can help to encourage applicants who want to feel comfortable and secure with a choice that will greatly impact their life.
Mentions working language
As with previous examples, Ergotopia also mention their working language. This is important, as again, some global talent may not already speak German.
Ergotopia go one step further though, by mentioning that a knowledge of German is a bonus, or that being "eager to learn this language skill" would be an advantage. This, therefore, provides an extra incentive for an international candidate who is looking to relocate to Germany and learn the language. 
Mentions planning internationalisation 
Ergotopia mention in their job ad that "internationalization [is] planned!" for some time in the future. This can serve as an extra bonus for anyone with experience in countries outside of Germany, as they will be confident their talents can be used in this area.
Flexible working options
As with previous ads, Ergotopia comment that the role can be performed from "Cologne / Darmstadt (where our two offices are located), hybrid in mix of office & home office or fully remote within any place of Germany". This can be encouraging for candidates working from various locations within Germany, but also to global talent looking to relocate to Germany, but not necessarily to Cologne or Darmstadt.

View all open positions at Ergotopia, here.
Prematch – Help with the move
Prematch are a platform made to make following amateur German football easier. They offer regular updates and statistics about German amateur soccer to fans, all from one place.
What do Prematch do right with their global talent acquisition?
Prematch mention having specialised benefits for anyone who would be relocating for the role, as well as encouraging flexible working, something that is a trend across these job ads!
Offer help to move to Germany
Within Prematch's advert, they state that they will "help you if you want to move to our hub in Cologne, Germany". This is a huge benefit for international talent, as moving to a new location can be a stressful and intimidating experience, made easier if you're moving for a company that will support you.
All remote options
As with several advertisements, Prematch mention a "flexible work culture, with all remote options". This can encourage international candidates who aren't looking to move to Cologne but are still interested in the role.

To go that extra step, Prematch also mention having "Regular team events and offsites". This can encourage candidates who want to work remotely, but still enjoy socialising with their team.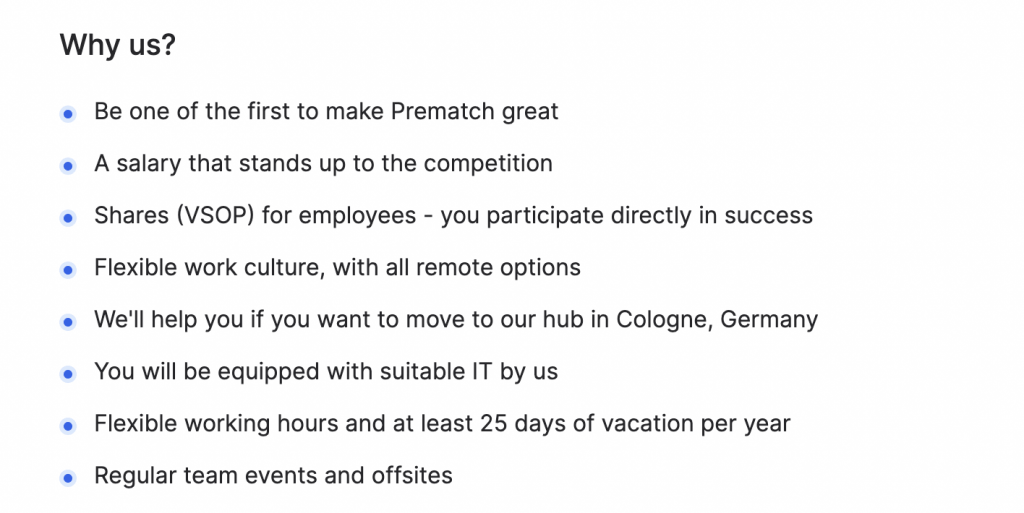 View all open positions at Prematch, here.
Crafting your own job advertisement
Have all those incredible adverts got you hyped to write your own? Well, we've got everything you need to get started.
Our in-depth guide to writing great job advertisements walks you through every step you need to take to attract talent, both locally and internationally. Check it out, now:
Want to write a great job advertisement?
Get started with tips and tricks from our helpful guide.
Read our guide